Unfortunately, my provider will stop supporting this type of site from 04/2023. I can then no longer make any additions or changes. I'm not sure if I'll create this page again.
Tipps
Look on popsike and find out, how often they turn up......
In my opinion, if you are confident with high quality re-releases, the following names have to be noted:
Little Indian, Rockadelic Records, World In Sound, Repertoire Records, See For Miles, Second Battle, Shadoks Music, Merry Go Round, Morgan Blue Town, Eva, Ohrwaschl and Little Wing....
...and two interesting new ones: Seelie Court and Ancient Grease Records (both unfortunately not with constant quality but excellent catalogue)...

(please see next page "Reissues?")
Fanny 300894 is one for sure, if you like a great sounding "Mariani - Perpetuum Mobile" copy (around 1995).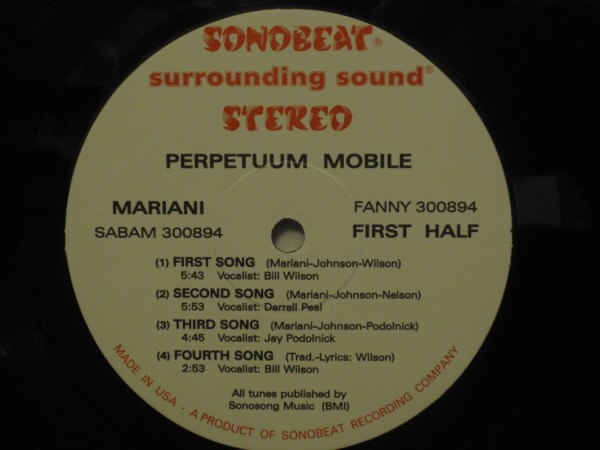 Original Label shows HEC 411 / HEC 412 instead of FANNY 300894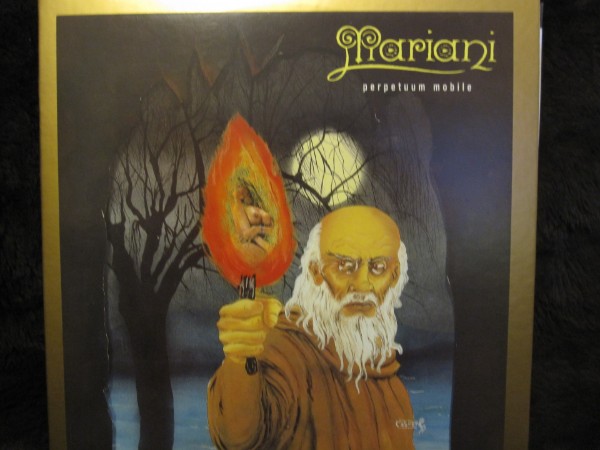 From 1987 is this strictly to 150 LPs limited version (stamped on the back, otherwise you have the far later/cheaper Fantazia pressing). It is a bit more tuneful in sound. Both shown LPs have the so called interludes on side 1 and are probably needle drop recordings. Bonus-tracks on that one are 7" versions of "Pulsar" and "Boots" from the Sonobeat 7" Pulsar / Boots – Sonobeat R-S 116 (1969). Sound qualitiy on both shown LPs is the best you can get on the market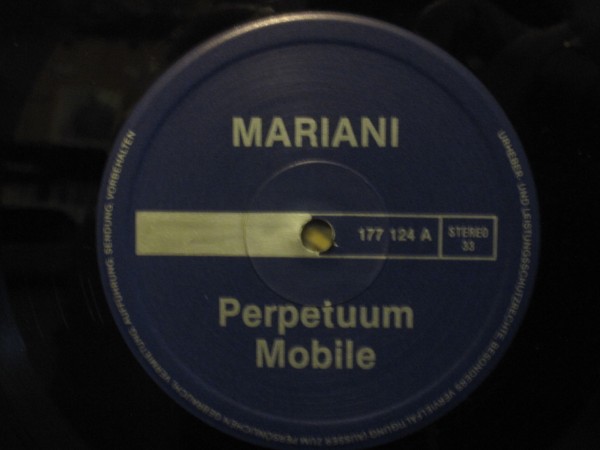 Stamped 177 124 A and 177 124 B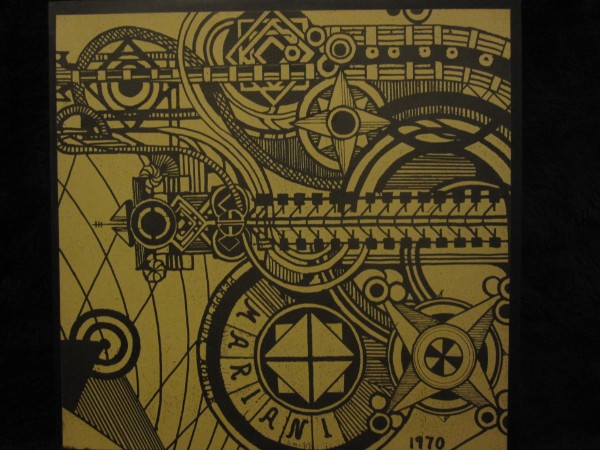 Two further Mariani recordings, "Re-Birth Day" and "Memories" can be found on the most essential (and strictly limited as well) sampler FILLING THE GAP: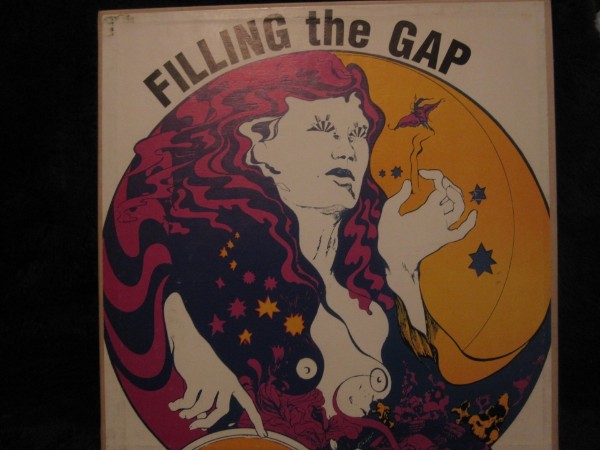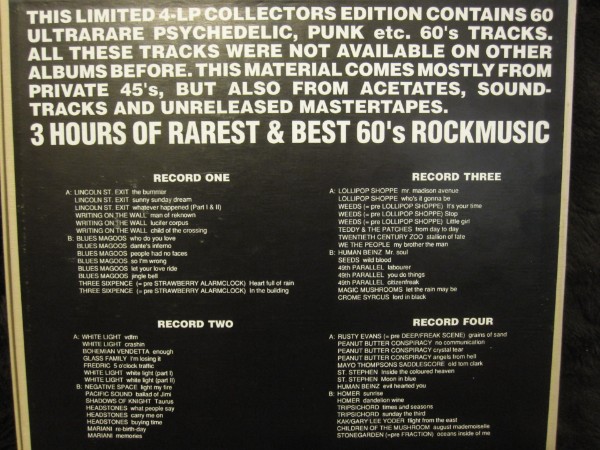 Re-Birth Day / Memories Lost And Found – Sonobeat R-S 118 (1970)
More Infos on Mariani/Sonobeat: "http://sonobeatrecords.com/mariani.html"
If you like DARK, you may grab the "Artefacts From The Black Museum" Acme AC8009LP,...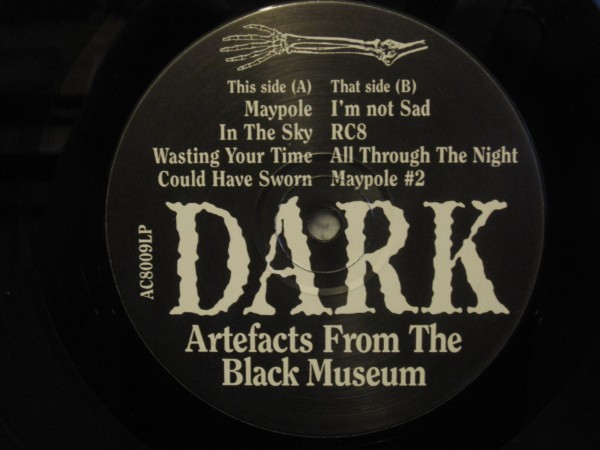 ...a spooky cover for a great LP...
...according to
Steve Giles (Guitarist, vocalist, songwriter and producer. Member of Dark):
"...as I have never seen a different version of this LP on a Kissing Spell label (by Steve Smith) I feel that the Acme version must be OK and that, probably, Steve Smith had some connection with them.
I'm sure I can remember having conversations with him about that LP - and I'm sure that he chose the artwork, which further confirms my thoughts that it is legitimate. ..." ...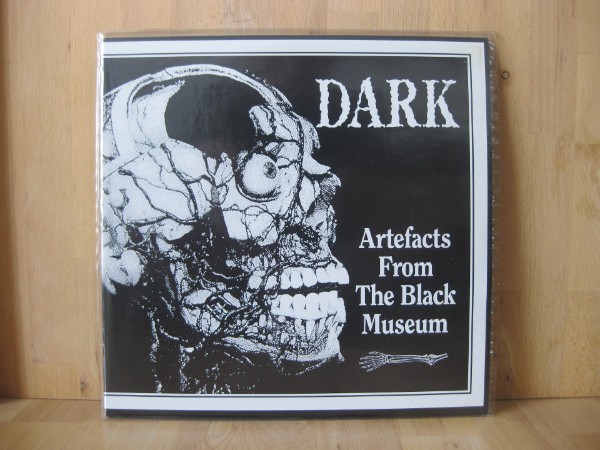 ...the Acme LP (1996) has some different tracks, but they are great. You may also grab the
Kissing Spell KSCD 906
CD (2003). Original Artwork reproduced and stated,
that it is taken from masters
....well,
there is a slight difference in the artwork
...(comparing the next two pictures)...
...as Steve Giles told me:
"About the photos of 'The Girl On The Settee', I took up to 12 exposures on Kodak Ektachrome 120 roll film - and chose what I perceived to be the best one. I preferred the position of her arm in that shot. I think it was one of the last 2 or 3 I took and the only one where her hand is on her heel." .... "When Kissing Spell wanted it to use for their CD release, I provided them with a different exposure. I also figured it would be a good crack to use a different shot anyway to see what happened. ... There are no more variants." ...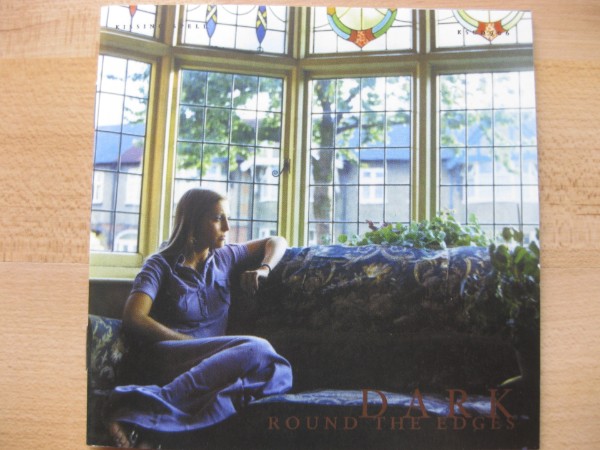 ...so,...if you prefer something very very near to the original DRTE (Dark Round The Edges):
...front and back...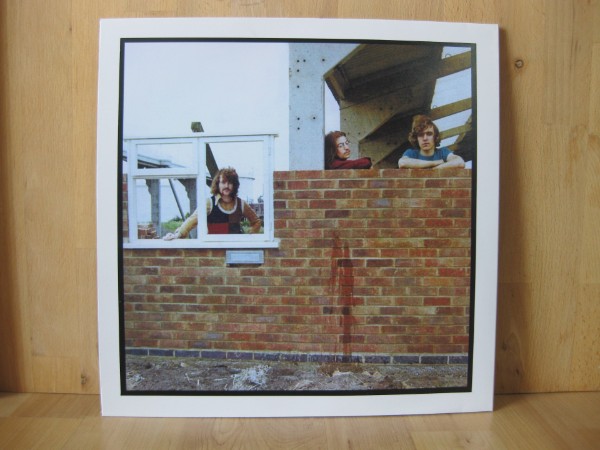 ...of the double cover...all hand made by Steve Giles with original dry mounted pictures in 2017...
...Steve Giles told me:
"As regards the building site photo - yes. It seemed to me, on reflection, to be a bit unbalanced, so I decided to crop it. That's the only reason it differs." ...
...or in the "black" variation...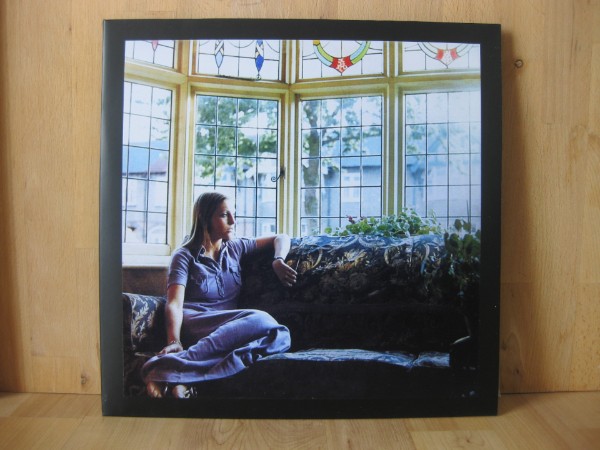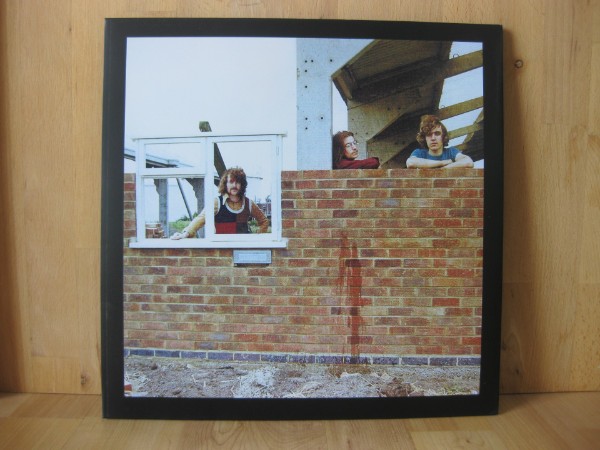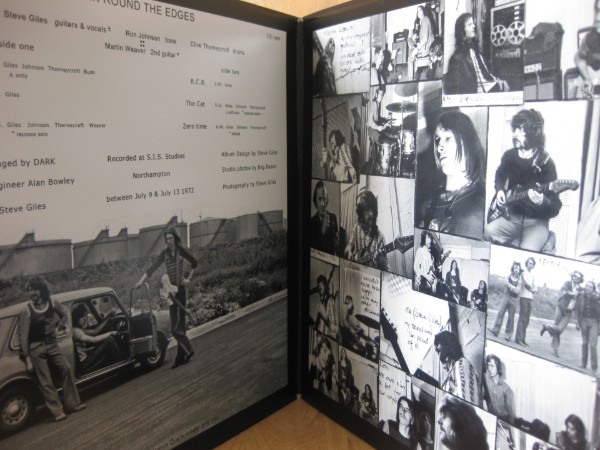 ...with the rare first official repress LP (from 1990 for SWANK*) of this musical milestone in it... :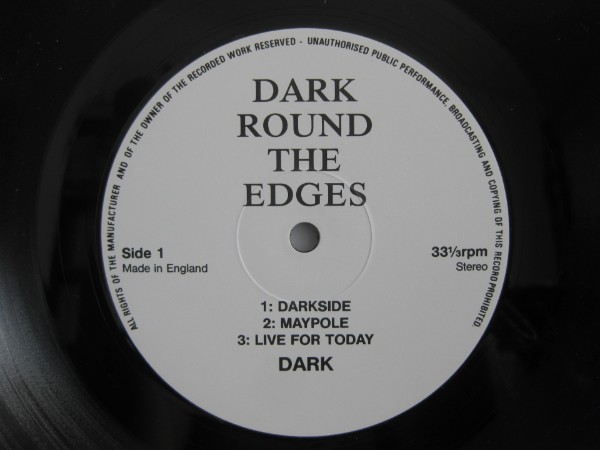 ...(and some other great goodies)...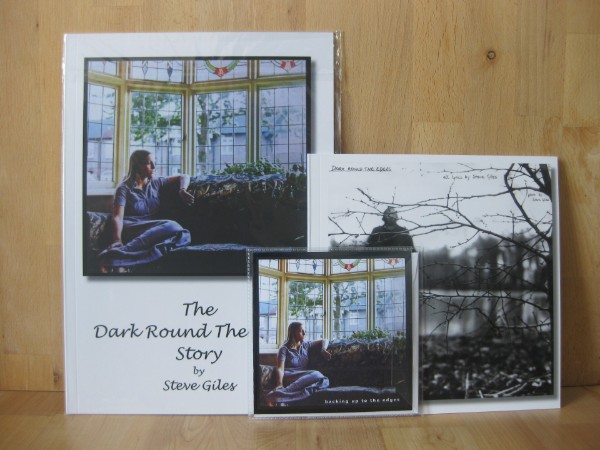 ...every of the 20 LPs (which were on sale) has a numbered certificate signed by Steve Giles personally and it included some interesting informations: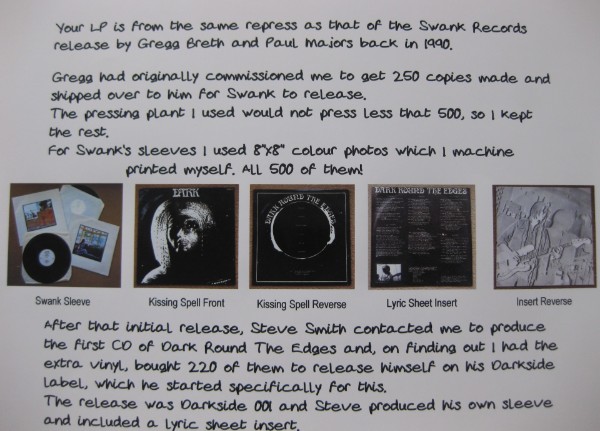 Two "black versions" made in 2017, as shown above, went to his grandchildren, so the stack should be pretty much used up ...
The mentioned SWANK version (1990)...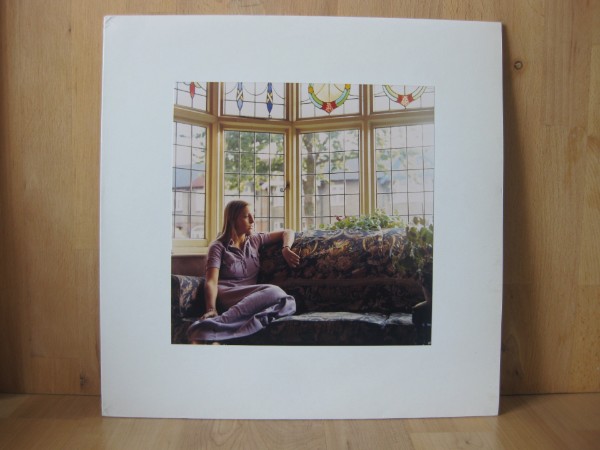 ...single cover, front and back with hand pasted pictures made and attached by Steve Giles...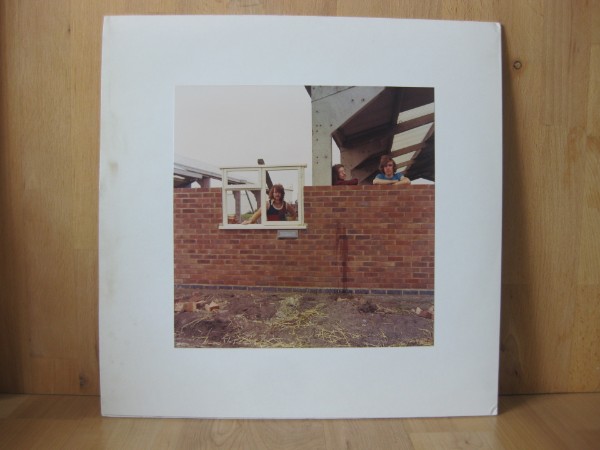 ...had a price of 150$ at its release and is very collectable as well (more than Steve Smith's variation i.m.h.o.)
Another recent (2013) edition: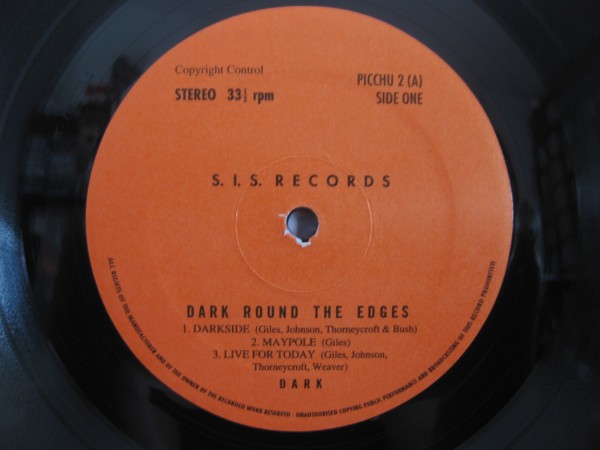 ...double cover (printed)...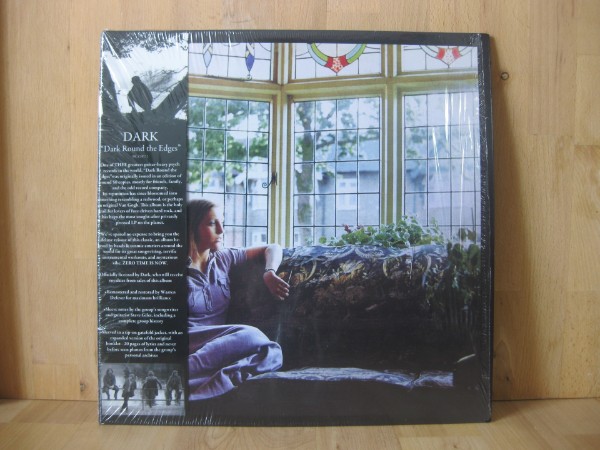 ...and the next original output from DARK on vinyl (2017, org.recordings from 1994 to 1996):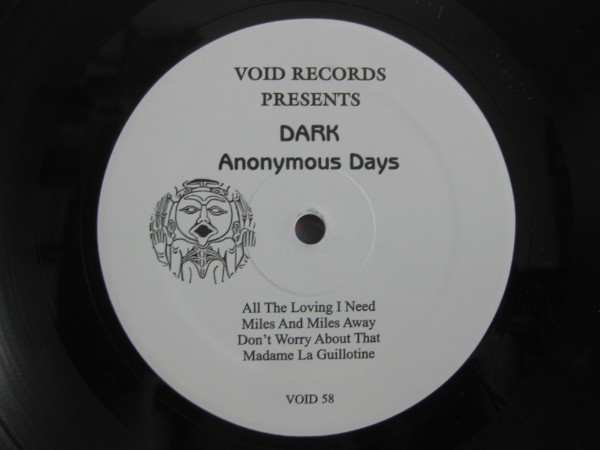 ...guess, what music that girl has on her headphones...
...yes... another output on vinyl by DARK (2019)...a two LP set containing their famous album mastered from 24bit-48Hz Wav files produced from the original ¼" Stereo Master tapes (according to Steve Giles)...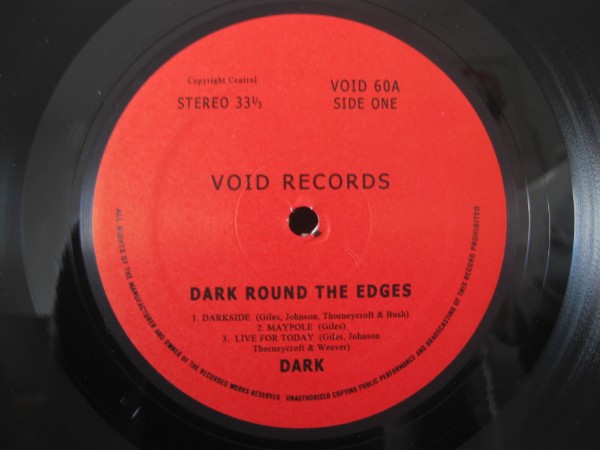 ...AND... the full set recorded live at The Racehorse Inn, Abington Square, Northampton on Oct. 19th 2011 ! ...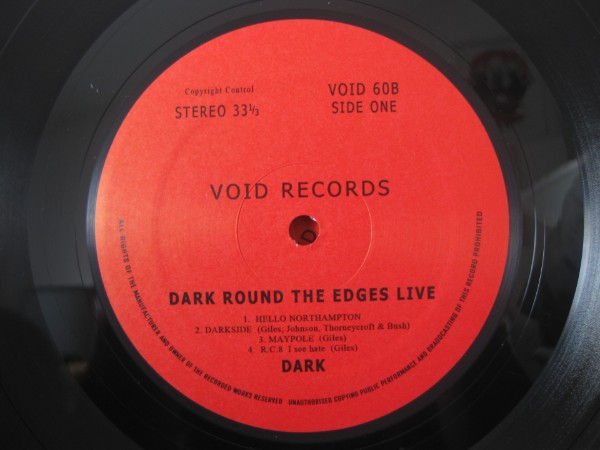 ...and the next one from the DARK family: The facsimile of the TP back then, known as Doodle Sleeve: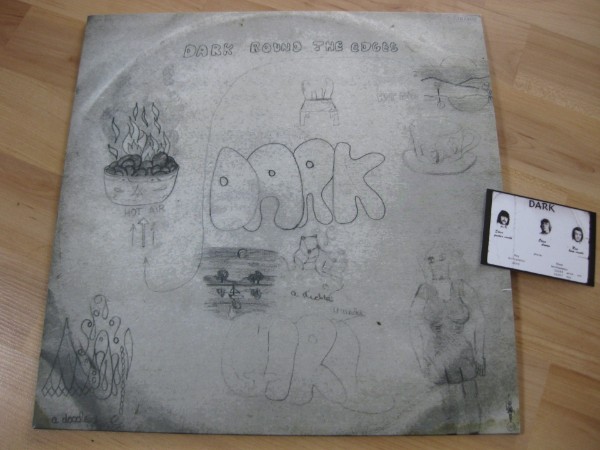 200p, drawn by Steve Giles and his then girlfriend on the very first test press cover, originally made in 1972...

...and now the final last editions of the famous DRTE (mixed in the Abbey Road studios). The reproduced label: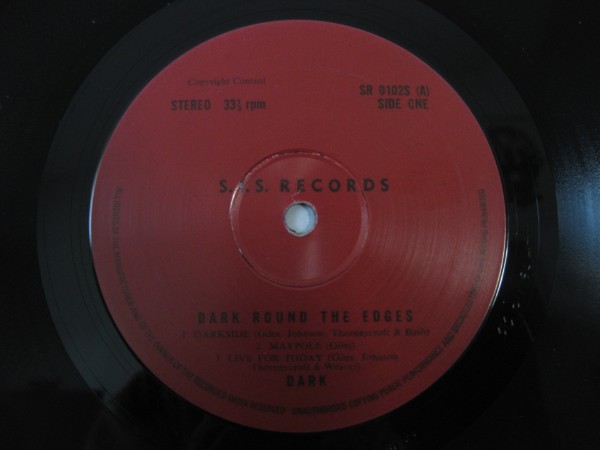 The single cover in black&white...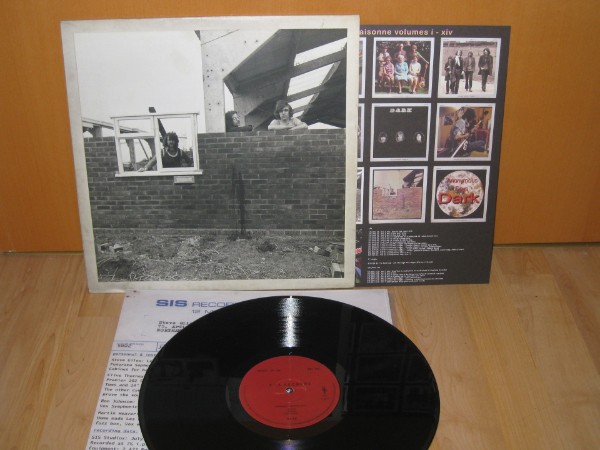 ...and the facsimile of the original cover: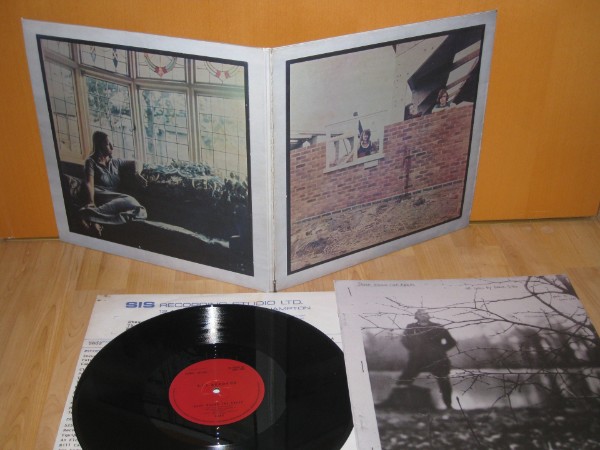 All great,... please avoid other reissues on the market ;-)
....so....
...continuing with...

Counterfeits
These are releases that are packaged to appear as if they are on a legitimate label, but are actually illegal releases fraudulently using that branding. Most are masquerading as promos (Though missing the promo copy hint on the label).
Some of these counterfeits are pretty accurate, though easily distinguishable from the real LPs at first glance by the poor cover (color) quality and mostely the title and company area is set too far to the edges.
Nethertheless, some counterfeits are collectable, and i.m.h.o. more desirable, than some south European "LP-reissues" clearly taken from a CD source. But a counterfeit will never sound as good as an original LP, you have to keep that in mind before spending a lot of money!
Some nice examples...
First two * SWANK releases (which might be counterfeits, but not sure...)
Forever Amber - The Love Cycle
...this one is said to be released in 1990 together with the (made for SWANK) DRTE version shown above...
Complex - Same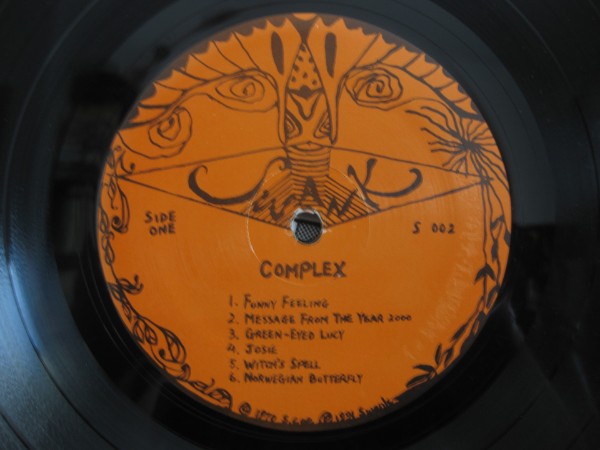 Irish Coffee - Irish Coffee - Satori SAT 1003 (what a great version, top sound!)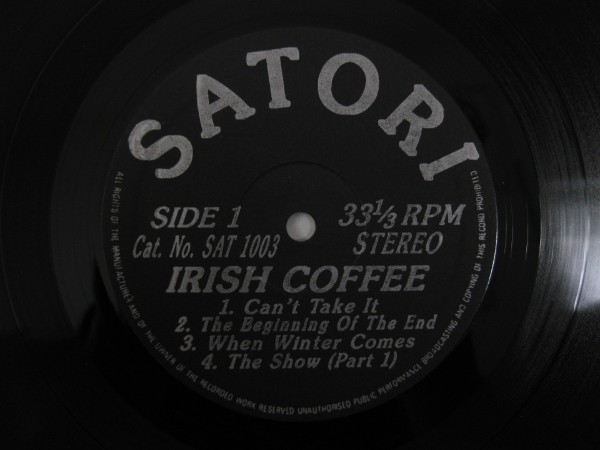 Arzachel - Arzachel -Satori SAT 1005 (as well)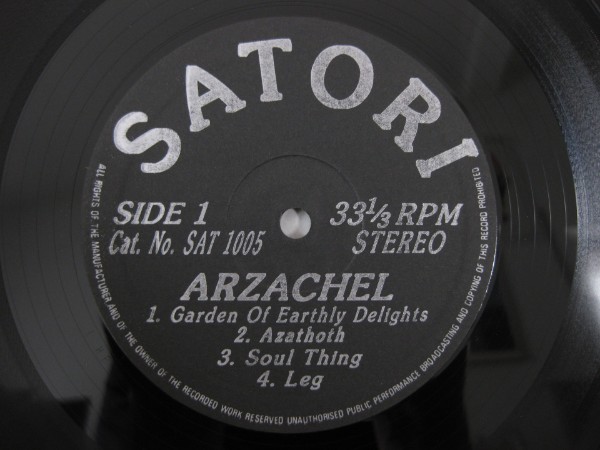 Warpig - Warpig - HF 9552 LP (great one, very good cover repro as well, from 2003)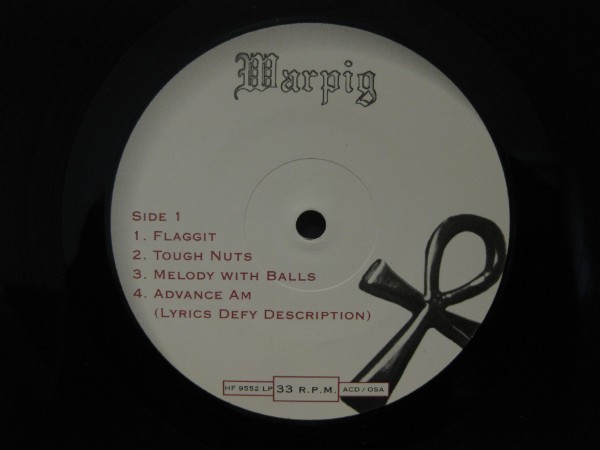 Stonewall - Stonewall - Tiger Lily Records TL 14013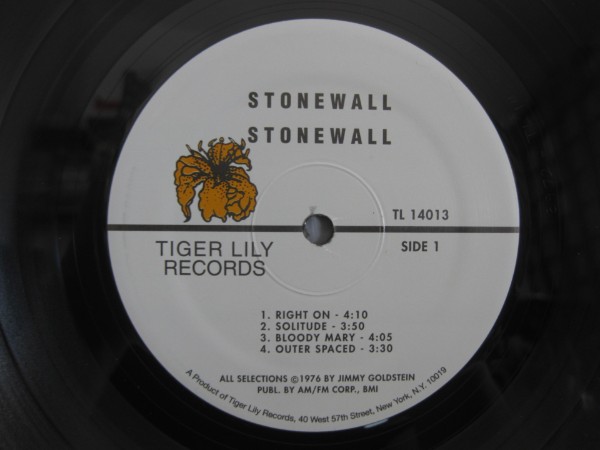 Blessed End - Movin' On - The New Sound J248
Bodkin - Bodkin - West CSA 104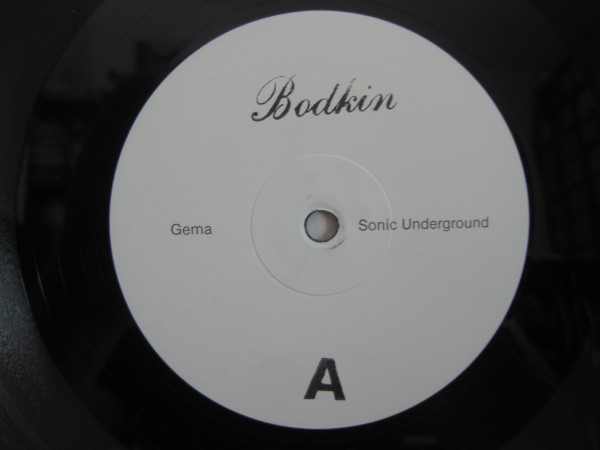 Stack - Above All - Charisma CRS-303 (Void Records, not sure about the counterfeit status...)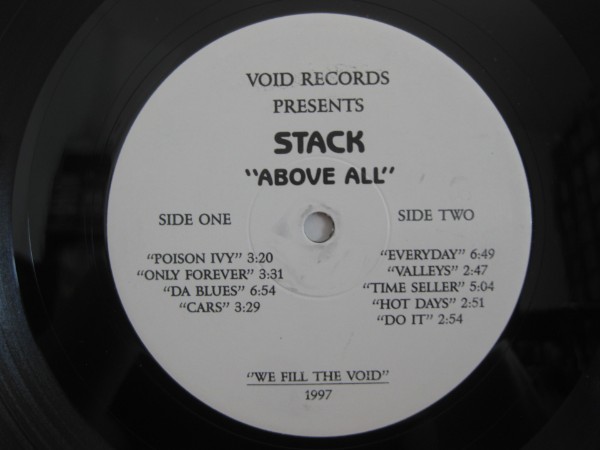 Lincoln Street Exit - Drive It - Mainstream S/6126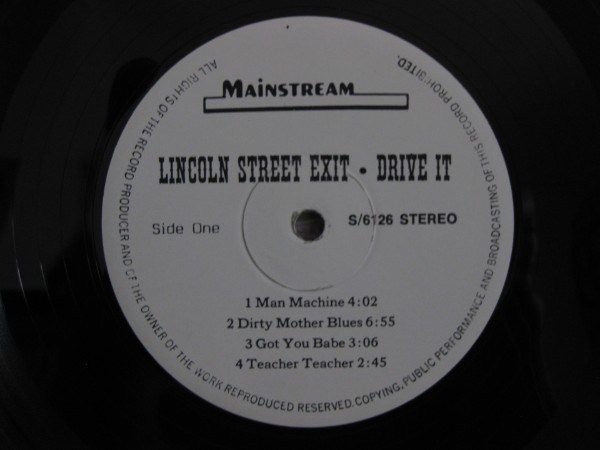 Josefus - Josefus - Mainstream S 6127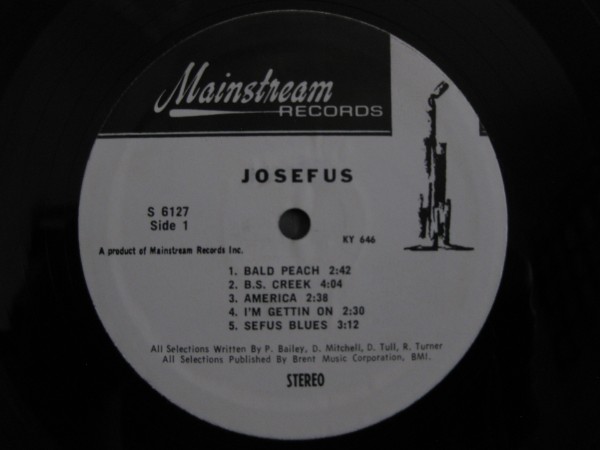 Jericho Jones - Junkies, Monkies And Donkies - A&M 68050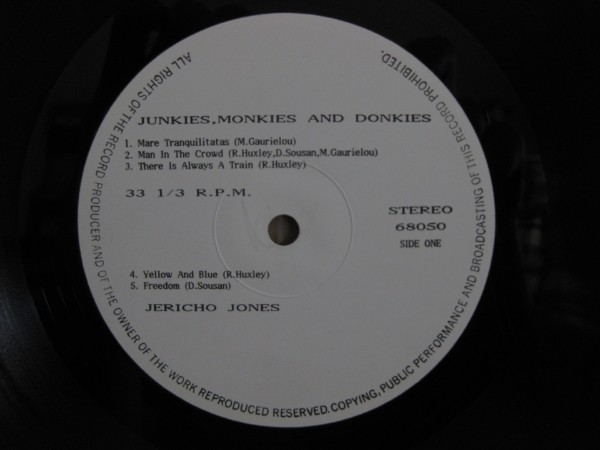 The Jarvis Street Revue - Same - Columbia ES-90020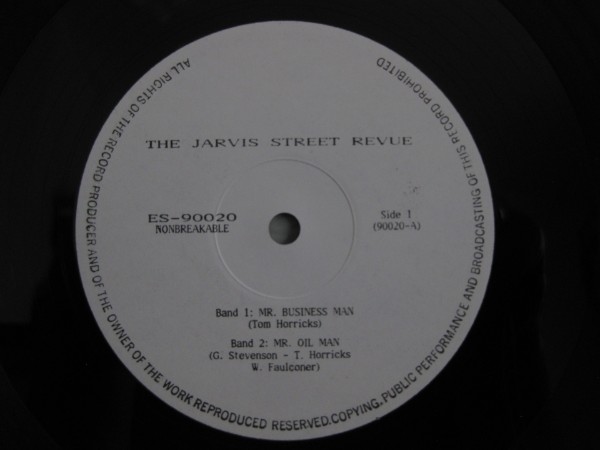 Jasper - Liberation - Spark SRLP-103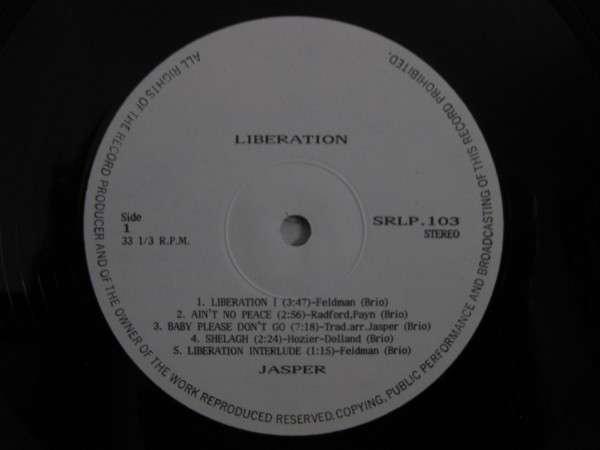 Country Lane - Substratum - CPF 920313T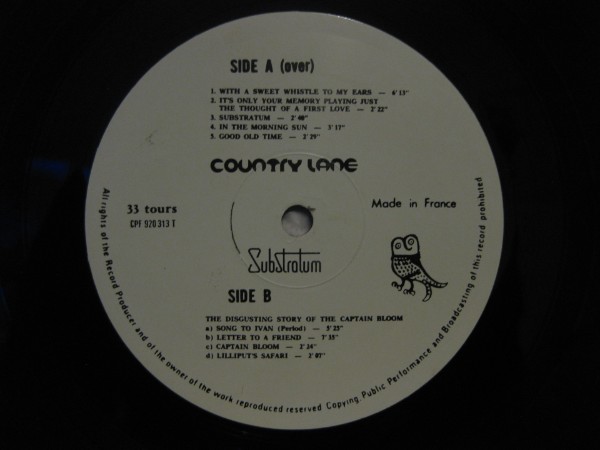 Whalefeathers - Whalefeathers - Blue Horizon 2431-009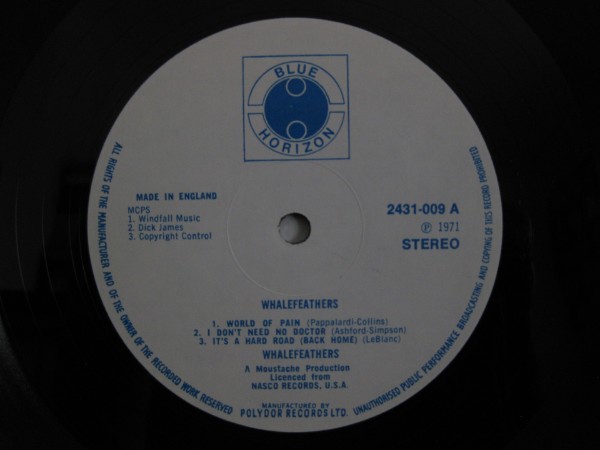 Felt - Felt - Nasco 9006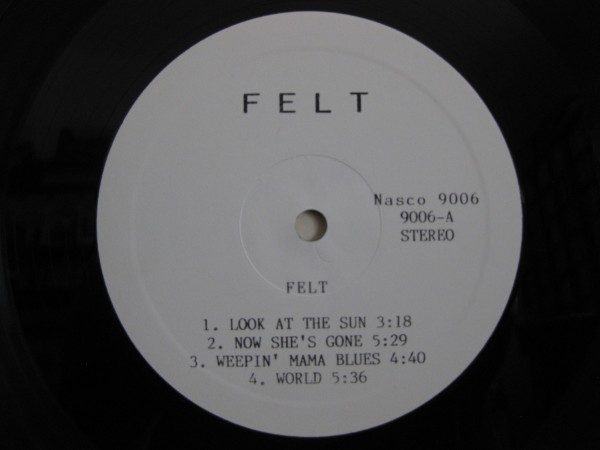 The Firebirds - Light My Fire - Crown CDT 589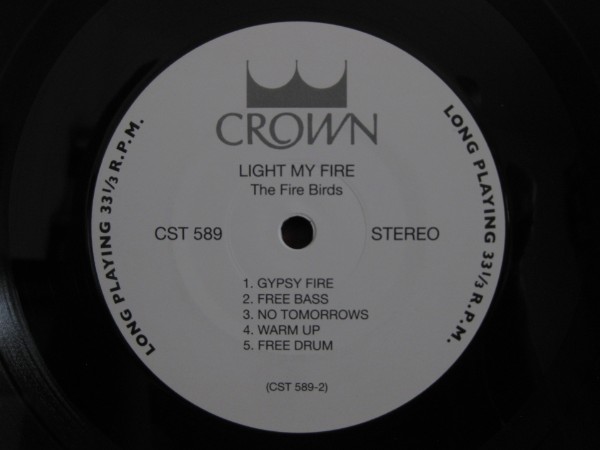 Litte Joe - Little Joe - Little Joe Records LJP1 (Yes, the original one is on red colored vinyl, see follow. pages)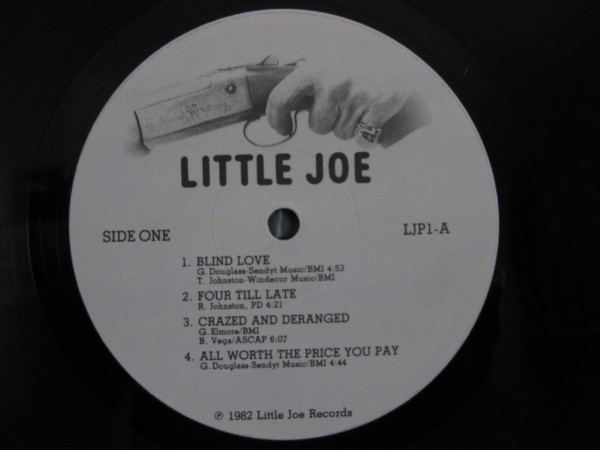 Master's Aprentices - Nickelodeon - SCXO-7992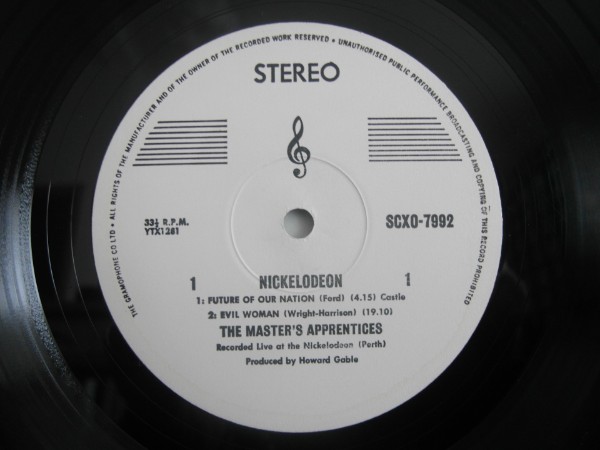 Morning Dew - Morning Dew - Roulette SR-42049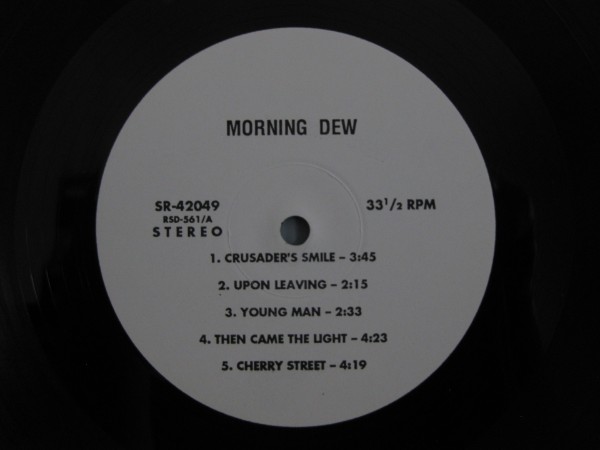 Raw Material - Time Is - RCA Neon NE 8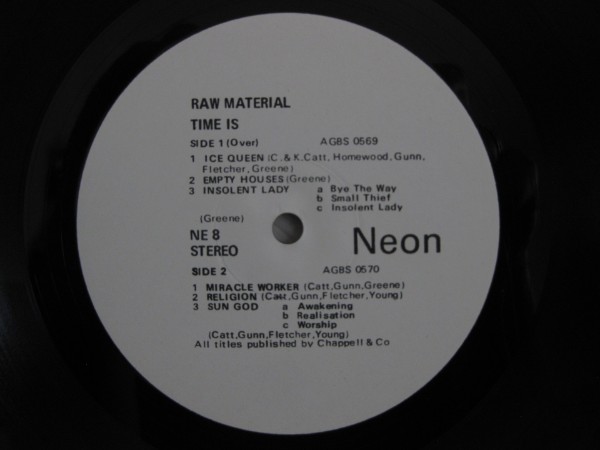 Raw Material - Raw Material - Evolution Z.1006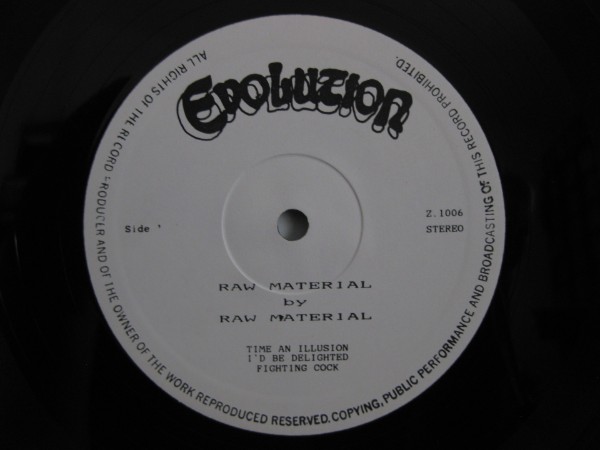 ...even available as "sample copy":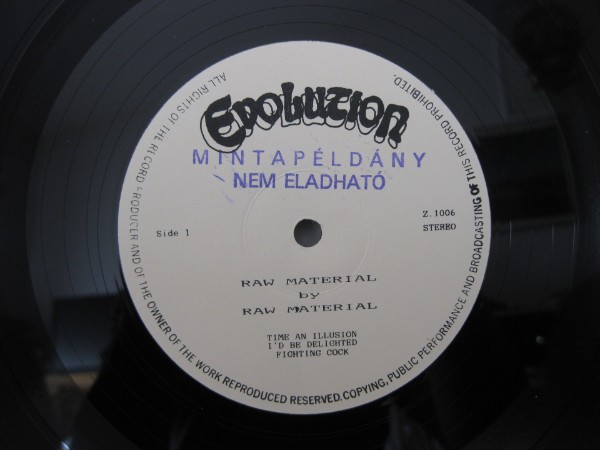 Information given at sale: Matrix: Z 1006
(as the original LP, extended with engineer mark HP)
This is one of the numerous unofficial orders placed by unknown Austrian and German gentlemen in the early 90s at Hungaroton, Hungary. The disc is coming from the deleted Hungarian pressing plant's archives. Both side labels have stamping: MINTAPÉLDÁNY - NEM ELADHATÓ (specimen copy - not sellable). The archive had one copy of each disc pressed in Hungary for possible repressing purposes, but the factory was closed in late 1993. 

Raw Material - Raw Material - Zel Records TZS 4015 (Org. Spain version on previous page)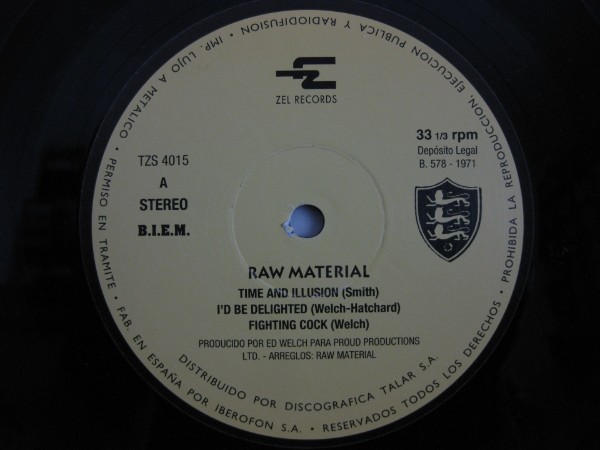 Spring - Spring - RCA Neon NE 6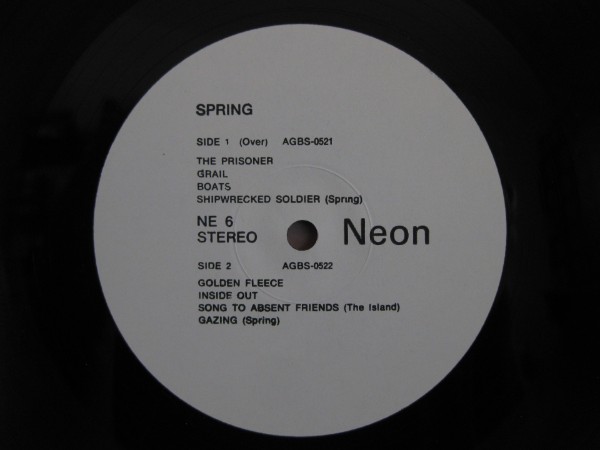 The Original Wizard - Same - Peon Productions P-1069 ST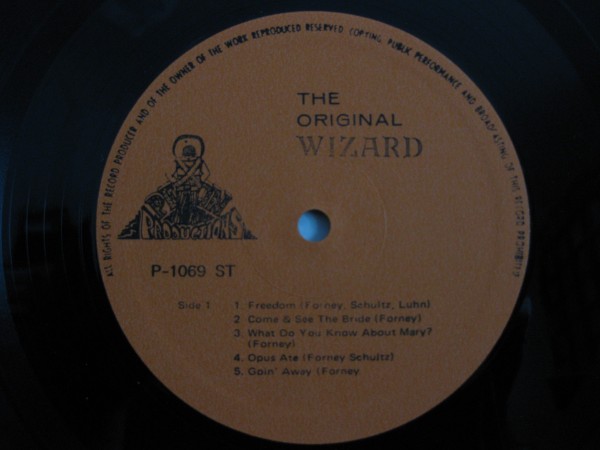 McKenna Mendelson Mainline - Blues - Paragon 15A (Org. Canadian version on follow. pages)
Christopher - Same - Metromedia Records MD 1024 (Amos Rec.)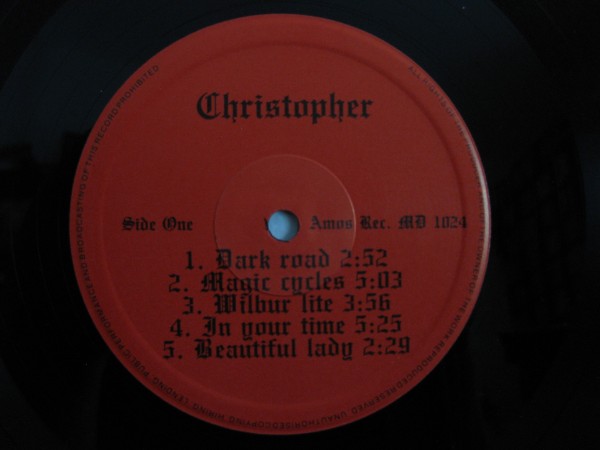 Sainte Anthony's Fire - Same - Zonk Records ZP-001 (Breeder RPR 004)
Homer - Grown In The U.S.A. - Universal Recording Artists HS101 (Breeder RPR 008)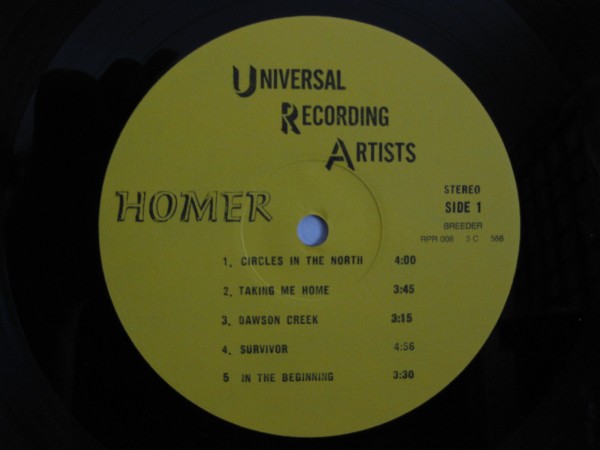 Short Cross - Arising - Grizly Records S-16-013 (Breeder RPR 009)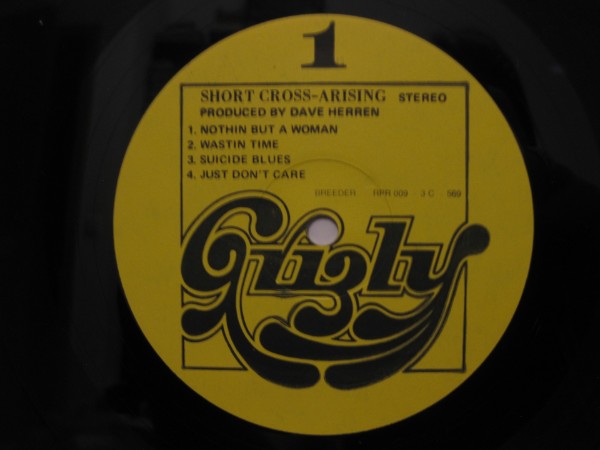 A Passing Fancy - Same - Boo BST 6801 (Breeder RPR 010)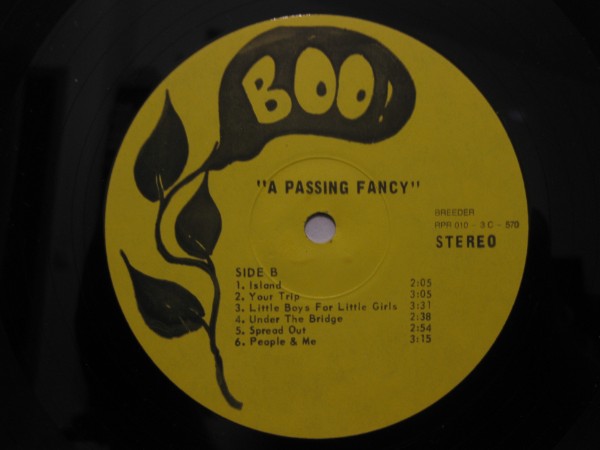 Harsh Reality - Haven & Hell - Philips SBL 7891 (Breeder Backtrack SBL 7891)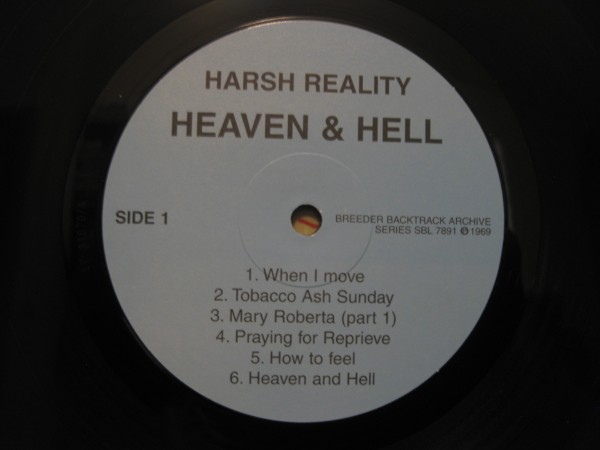 December's Children - Same - Mainstream Records S-6128 (Breeder Backtrack S6128)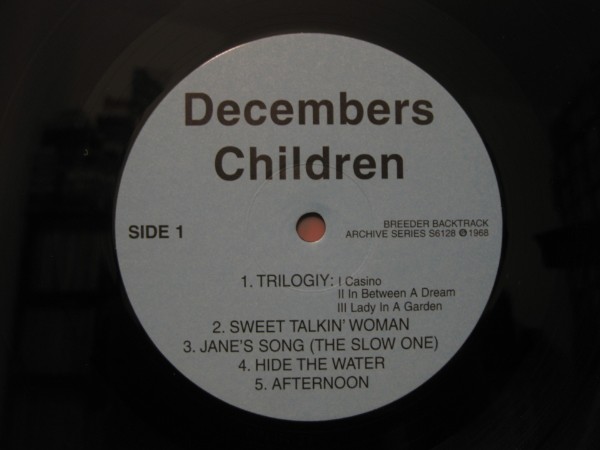 Can - Monster Movie - Music Factory SRS 001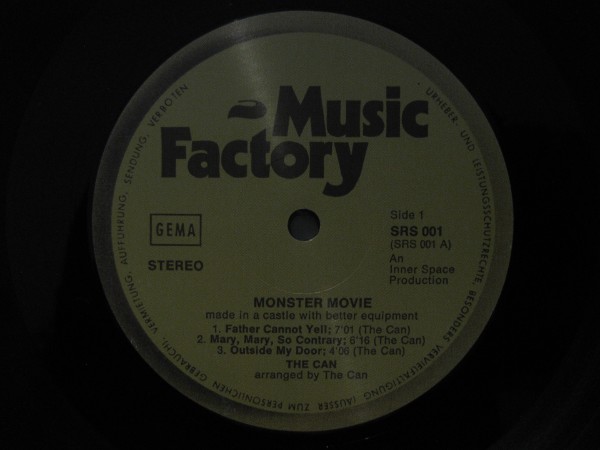 The Shiver - Walpurgis - Maris 20 501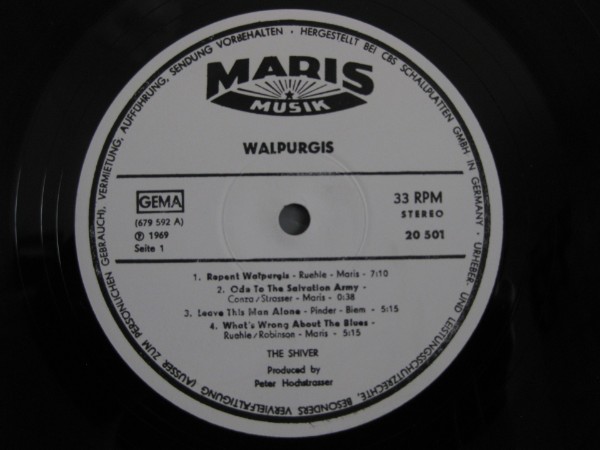 Killing Floor - Same - Pink Elephant KF 009 (Org. Dutch version on previous page)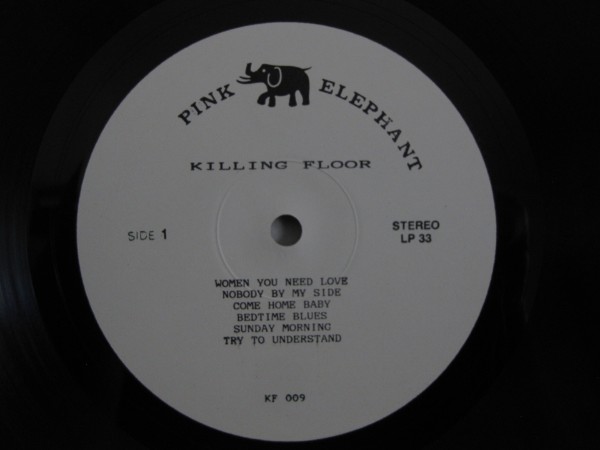 Luv Machine - Same - Polydor Select 2383041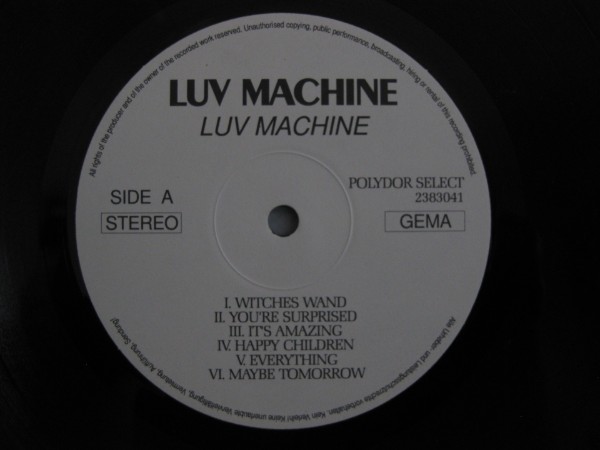 Zior - Every Inch A Man - Intercord Global 26009-1 U (German origonal on previous page)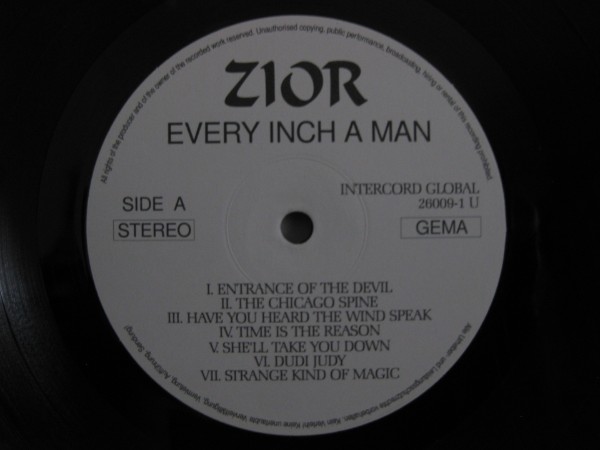 ...and of course the 13th Floor Elevators...Originals filed under US Favourites (Orig)
Thirteenth Floor Elevators - IA-LP 1 (Some folks really think it's an original - Lol)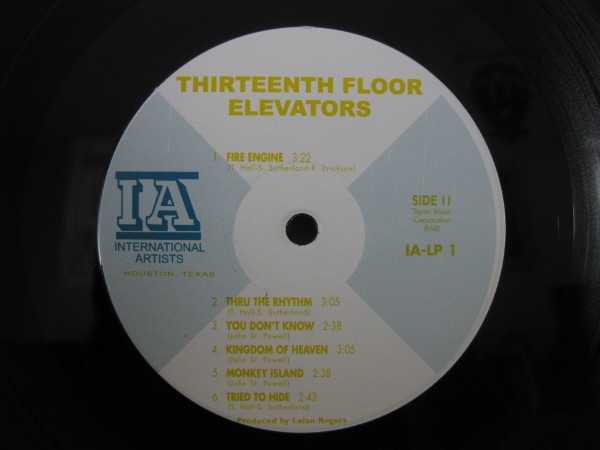 Easter Everywhere - IA-LP 5 (seems to be a good alternative)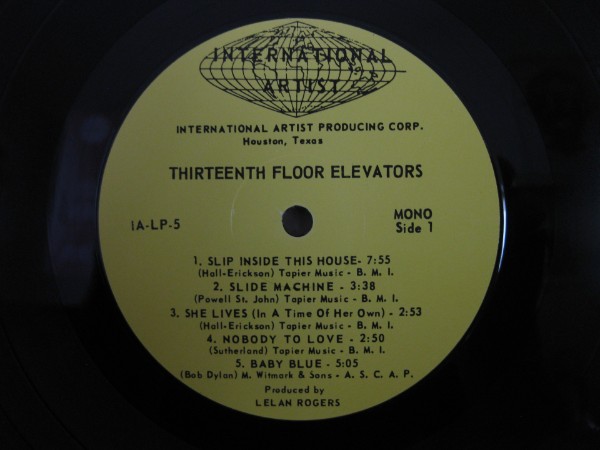 Elevators Live! - IA-LP 8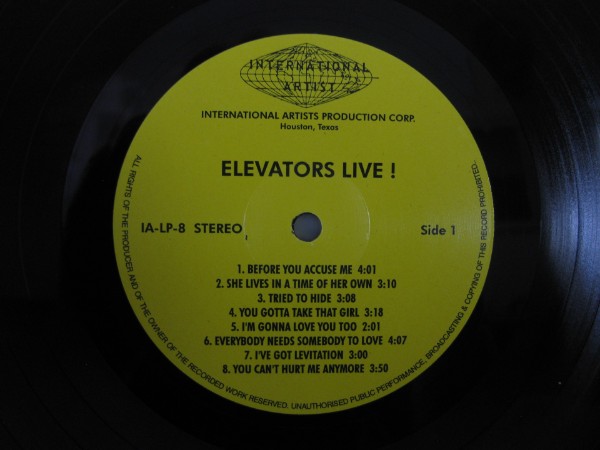 Bull Of The Woods - IA-LP 9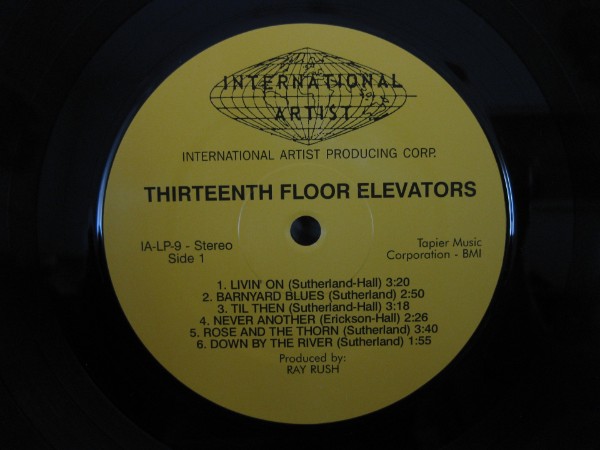 Bootlegs are recordings of a (live) performance that was not officially released by the artist.
Best "bootlegs" might be the ones from Swingin' Pig, BBC TS (If you can call them bootlegs, but I think they were pirated as well), Flashback, Oh Boy and maybe one or the other I forgot to mention...Have a look:
"http://theswinginpig.net/"
A (real) TEST PRESSING: looks like the following one and should have the protocol sheet with it: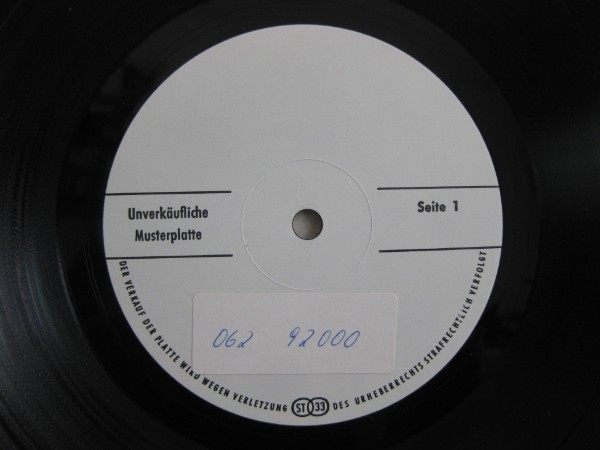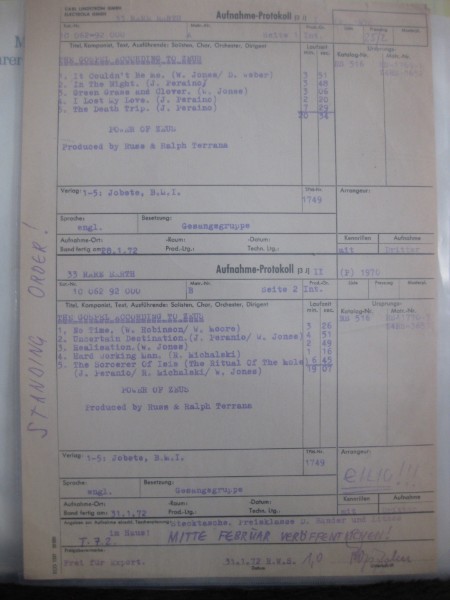 "Aufnahme-Protokoll"
LPs are a product of mass media. If you want to find sense in collecting very early pressings,
here you will find some useful informations provided from the sourceful www. I don't know, if
they are all right, but they make sense to me:

Decca LPs

The lower the number of the "mother" stamper, the earlier the pressing date. The lower
the stamper code, even earlier is the pressing itself.

The letter identifying the stamper can be found at 3 o' clock on the vinyl in the otherwise blank trail-off.
The mother number can be found at 9 o' clock in the trail-off.

Decca used the word B U C K I N G H A M for numbering of the stamper. The first stamper has the
letter B. Numbering goes like this:

B = 1, being the first stamper taken from the mother
U = 2, being the second stamper taken from the mother
BU = 12, being the twelth stamper taken from the mother

About 2000 LPs were made from one stamper probably.


The letters one can found at 6 o' clock in the vinyl, near the lacquer number, were the letters
Decca was using for the different mastering-engineer:

A = Guy Fletcher
B = Ron Mason
C = Trevor Fletcher
D = Jack Law
E = Stan Goodall
F = Cyril Windebank
G = Ted Burkett
K = Tony Hawkins
L = George Bettyes
W = Harry Fisher

Mono:

Decca was still producing mono LPs until 1971. The date codes on the mid of 1969 introduced red border
mono sleeves run to May 1970. After that, the date code is missing. Most sleeves are not date coded however.

The change from unboxed to boxed labels was taking place during the last months of 1969 for both, mono and stereo LPs.

The deep ring pressed on the vinyl under the label can be found on all LP's manufactured before summer of 1968.
The ring is existing on mono and stereo LPs. LPs with the ring are usually called "grooved labels" and
LPs missing the pressed ring are called "non grooved labels".


EMI MATRIX\STAMPER CODES

At nine oclock there are the mother-, at three oclock there are the stamper codes:

EMI used the code G R A M O P H L T D

G=1 R=2 A=3 M=4 O=5 P=6 H=7 L=8 T=9 D=0


UK VINYL RECORD TAX STAMPER CODES:

The following information applies to EMI UK labels: Columbia, HMV, MGM, Parlophone, etc

ZT from 10 April 1962
PT from 26 November 1962
MT from 1 January 1963
KT from 1 July 1963
From 1st January 1969 on there were no tax stampers anymore.
In the WWW you have an inexhaustible sorce of information and tradingplaces. Too many to mention. Browse and find out.....just one thing: Please feel free to check out the youtube channel of a guy named "dyvelsten". The greatest collection there from a man who seems to know....
If you like Folk Music (traditional) and you want to know about the best bands and singers, feel free to visit
"http://www.theballadeers.com"
I am a true friend of that site. Some of my favourites are:
One of the best bands ever: Silly Wizard (Vocal: Andy M. Stewart).
One of my most loved folk singer and songwriter: Dick Gaughan Most of his songs are timeless and as actual as they can be.....
They came through the 60ties, 70ties, 80ties, 90ties and they might be existing in the new century as well.... I don't know... What I do know is, that they are great....past-present-future....(please do not confuse with other tri-tra-trullala Irish Folk singing pup bands....this band is authentic):
The Wolfe Tones. The mono pressing of the first LP is showing the first song "The singing bird". That's the song, that is on most mono pressings and on all stereo pressings. But I have got a copy, that is showing the song, but on the LP is not that song, but a song that is probably called "The saint"(?). Does anyone have an idea?
Speaking of the past: These guys may be old-fashioned, but they had beautiful songs and they were gifted with talent: Robin Hall & Jimmie MacGregor.
Well known and still very popular: Christy Moore (also with Planxty).
An Irish duo, that has often been to Germany was Eddie & Finbar Furey.
Last but not least the best Gaelic voice in the world: Karen Matheson and her band Capercaillie.
Questions
I still haven't found out, why there are different BEACON pressings in existence. Maybe someone can help me out here.
On the cover of the b/w labeled UFO1 BEAS 12 you can find "Willesden High Road - London" as adress of the BEACON label, while the other three covers are showing "Seymour Place - London". That makes the question "Which one came first?" pretty clear:
The Beacon label has started in Charles Street, London in 1968. In 1969 they moved to Willesden High Road, London. Finally, in or around 1970, they moved to Seymore Place, London.
This can be followed chronologically on some of the label's covers. Since only the LP with the black and white Beacon label BEAS 12 shows the (second) address Willesden High Road and the LP with the orange Beacon label BES 12 bearing the third address Seymore Place (as well as the two "Flying" BEAS 19 and BES 19, among other later outcome from this label) it is only logical, that the black and white Beacon BEAS 12 came out first.
But why a switch so early (probably 1971/72) in design?
An understandable answer was given at discogs:
When the UFO debut and Flying were re-pressed around 1972, the manufacturer switched to CBS UK, using the orange label, again having the distinctive pressing characteristics of early 1970's CBS, Atlantic, Reprise, Blue Horizon etc. These CBS pressings originally came with the distinctive UK die cut white paper inner sleeve with the 'center window' and the blue text 'Made in England / Patent No. 1,125,555' commonly used for CBS / Kinney products in this era. Interestingly, the re-press has the exact same lacquer / matrix stampings A-1 and B-1 indicating the original metal parts used for the EMI pressings were used. Hence, the sound quality is essentially identical for both, whether you have a white or orange Beacon label. (I can absolutly confirm the last sentence. Both versions are also very collectable i.m.o.).
So, this puzzle should be solved....
(Pictures were shot by me. They are shown for information purpose only!)
UFO - Flying - Beacon BES 19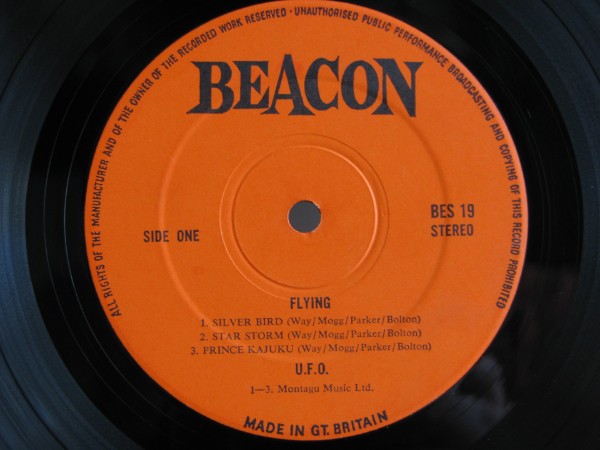 UFO - Flying - Beacon BEAS 19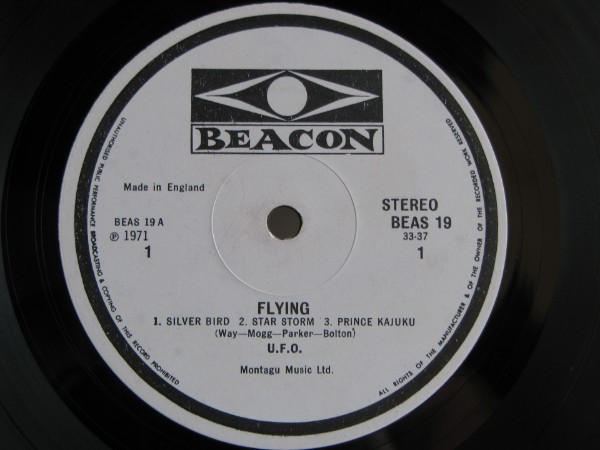 UFO - UFO 1 - Beacon BES 12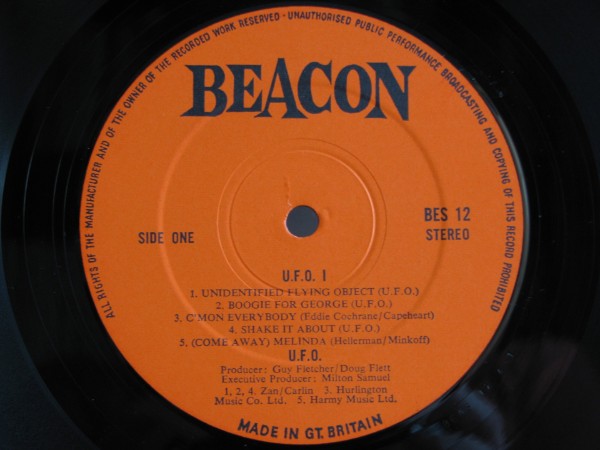 UFO - UFO 1 - Beacon BEAS 12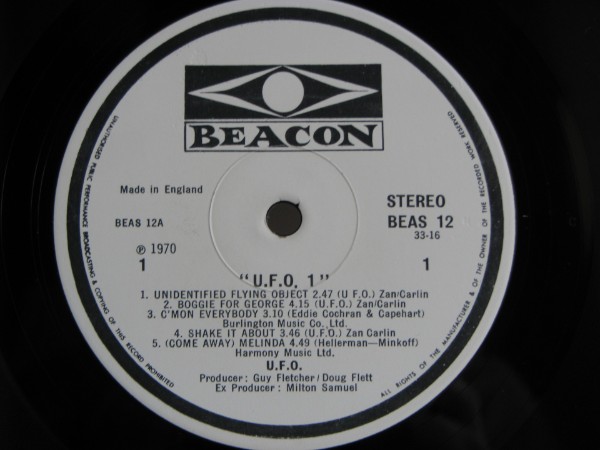 There are different colored U.F.O. 7"es, too. Seemed to be a change of design in general in or around 1971 as well: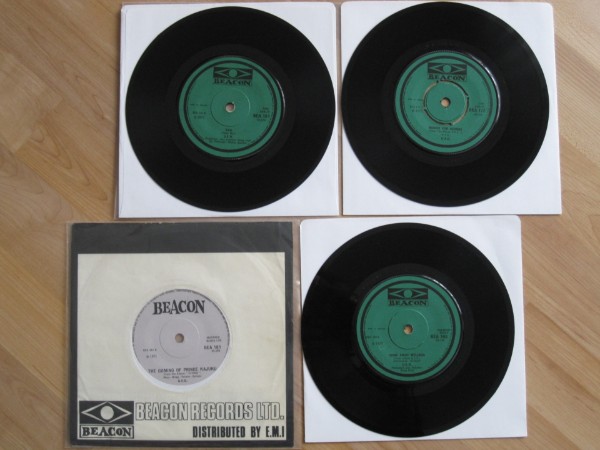 Beacon BEA 161 Shake It About / Evil 1970 (No Prong)
Beacon BEA 165 Come Away Melinda / Unidentified Flying Object 1970 (No Prong)
Beacon BEA 172 Boogie For George / Treacle People 1970 (4 Prong)
Beacon BEA 181 Prince Kajuku / The Coming Of Prince Kajuku 1971 (again No Prong)
One question, that is left:
...3 Prong or 4 Prong or No Prong: First pressing? Second pressing???

There is another question I would like to ask the ~ music loving world ~:

Is there a mono version of the famous FREE LP "Tons Of Sobs" (ILPS 9089)?

On the first page ("Home") the New Zealand and the Australian pressing of that LP are on display. Early Australian pressings showing on the back side of the record cover a stereo AND a mono version:
Stereo SFL-33,589
Mono FL-33,589
You can see that information on several LPs which were manufactured by Festival Records Pty. Limited under license of Island Records Ltd., too: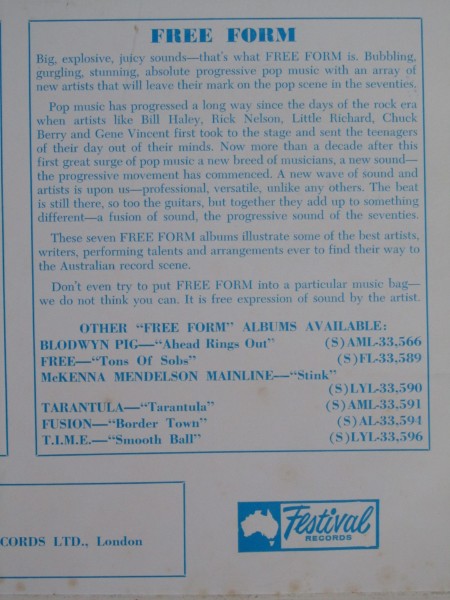 The Australian (second) cover is non gatefold, non flipback, front laminated, with blue text and stereo/mono reference, while the New Zealand cover is non gatefold, non laminated, but flipback, with black text and only stereo reference. The first Australien cover is non gatefold, but front laminated and flipback with blue text and reference to stereo/mono reference (Festival numbers).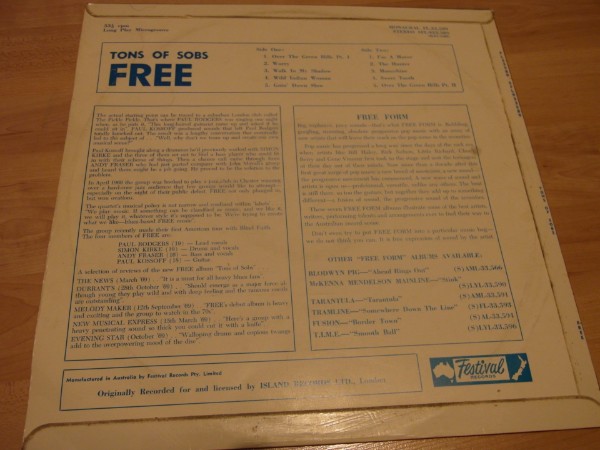 On popsike you'll find a description of an Australian pressing:
MAGNIFICENT LAMINATED (FRONT) COVER WITH BLAZING SHINE. THESE RARE AND SHORT-LIVED TRANSITIONAL (FESTIVAL to ISLAND) SLEEVES NO LONGER DISPLAYED DUAL MONO ('MONAURAL'!) / STEREO CATALOGUE NUMBERS - THESE WERE REPLACED BY THE AUSTRALIAN STEREO NUMBER (WITH THE UK ISLAND NUMBER IMMEDIATELY BELOW) TO THE REAR TOP RIGHT AND A PRINTED BOXED STEREO LOGO APPEARS ON THE FRONT TOP LEFT. PINK ISLAND RECORDS LTD STICKERS, WITH 'WHITE I' LOGO WERE ADDED TO THE OPPOSITE TOP CORNER.
Well, you see, there are non-laminated, only stereo covers as well, as laminated mono and stereo covers...more than one gemm to find, I'll guess.. ;-)

Most of the Pink Island UK 7"es and the Australian Pink Island EP on display are having only mono tracks:
WIP-6054 Broad Daylight - The Worm (both songs mono)
WIP-6062 I'll Be Creepin - Sugar For Mr. Morrison (both songs mono)
WIP-6082 All Right Now - Mouthful Of Grass (both songs stereo)
WIP-6093 The Stealer - Lying in the Sunshine (both songs stereo)
WIP-6100 My Brother Jake - Only My Soul (both songs mono)
IX-11,770 All Right Now - I'm A Mover - Wild Indian Woman - Mouthful Of Grass (all songs mono)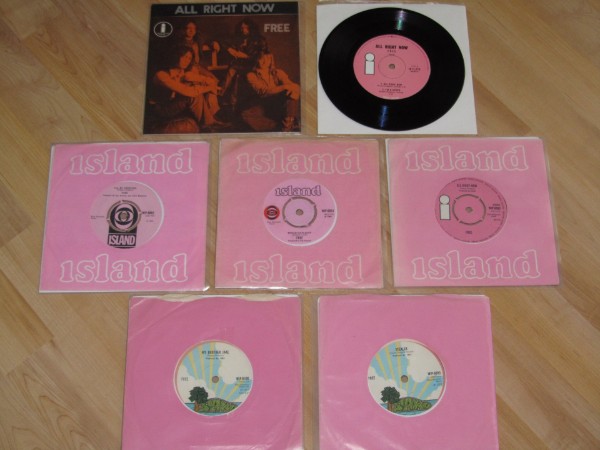 The Australian EP accompanied by the Australian mono 7" FK-3793 All Right Now - Mouthful Of Grass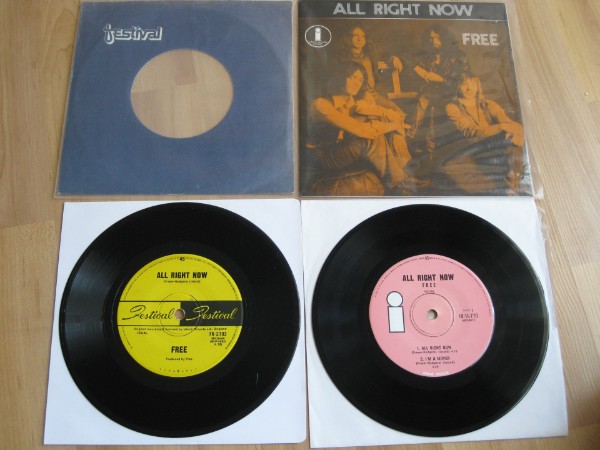 Not on display (all in mono):
A Turkish 7" of All Right Now - Mouthful Of Grass on Philips 6068 013
A Portuguese 7" of All Right Now - Mouthful Of Grass on Philips 6068 013 and
A Brazilian 7" of All Right Now - Mouthful Of Grass on Philips CS 139.066
America saw the release of several "one-song in mono and one in stereo" 7"es: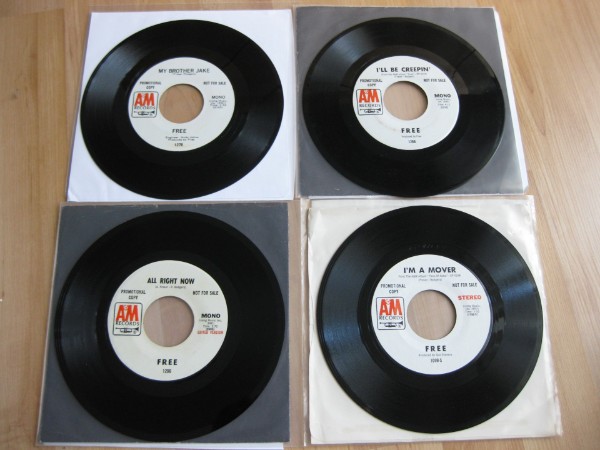 A&M 1206 - All Right Now (mono/stereo) - Interesting time code: 2:70 !
A&M 1266 - I'll Be Creepin' (mono/stereo)
A&M 1276 - My Brother Jake (mono/stereo)
also on display the sole American issue, only in stereo
A&M 1099 - I'm A Mover - Worry
The famous 5-CD collection Box "Songs Of Yesterday" features two mono tracks as well:
Broad Daylight (recorded for debut 7" WIP-6054) and
I'm A Mover (recorded for unreleased 7" coupling with I'll Be Creeping as its B-side)
(source: Booklet of the Box)

All the mono cuts seem to have been released only as 7" cuts. But why is there a reference to a mono version of Tons Of Sobs on the Australian and New Zealand LPs????
I had a little "chat" with a man, who has the best references to know the possible answer. He is virtually certain, that there was a mono LP on the market in Australia.
Well, if anybody HAS that LP, I would be delighted to receive proof, for example a picture..
(If not the LP itself ;-)...
According to another recent contact with David Clayton it is more likely that there is no different mono mix of the famous TOS in existence.
David Clayton is one of the two authors of the book "Heavy Load" (The Story Of Free) and was responsible for producing, for research and liner notes of the famous CD compilation box "Free - Songs Of Yesterday" as well...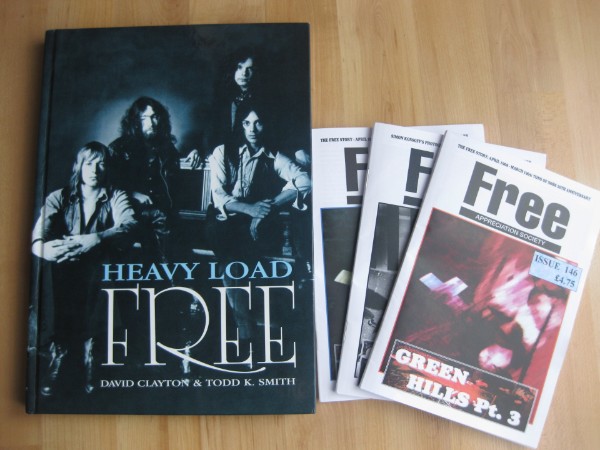 ...a quick look inside...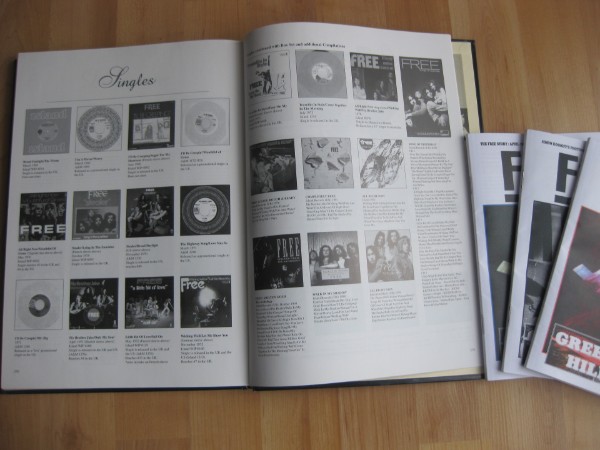 ..this book was signed by Paul Rodgers. Since I bought it used, the name of the addressee is hidden for reasons of respect. I would have loved to meet Mr. Rodgers myself ...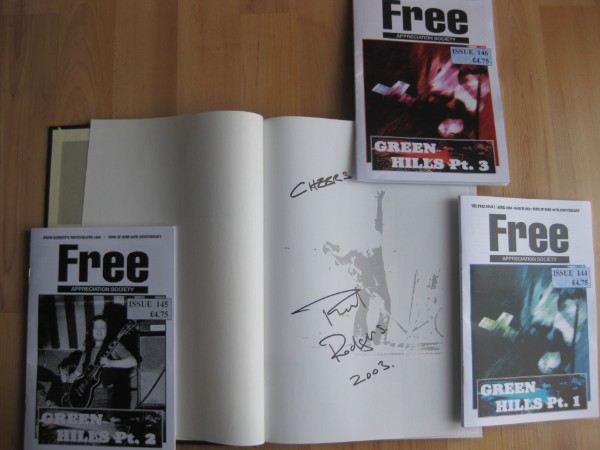 ...unfortunately the book has long been out of print...
More informations you will find in David Clayton's mags and maybe on his blog. Have a look at:
http://freeappreciationsociety.blogspot.com/
The great three mags dealing with the 50th anniversary of the TOS album are:
Green Hills Part 1 to 3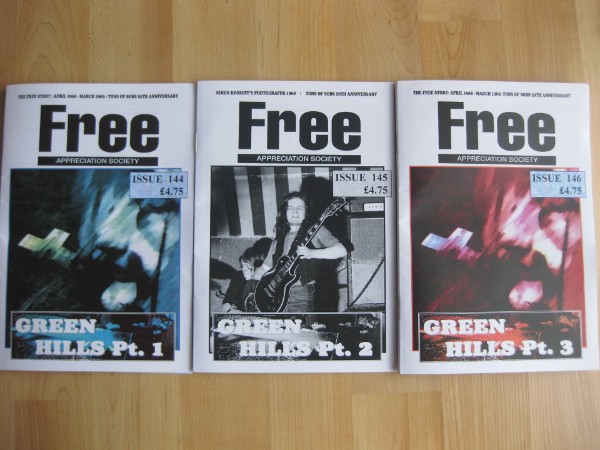 ...containing tons of informations, facts and beautiful pictures...(and a little article of mine as well :-) ...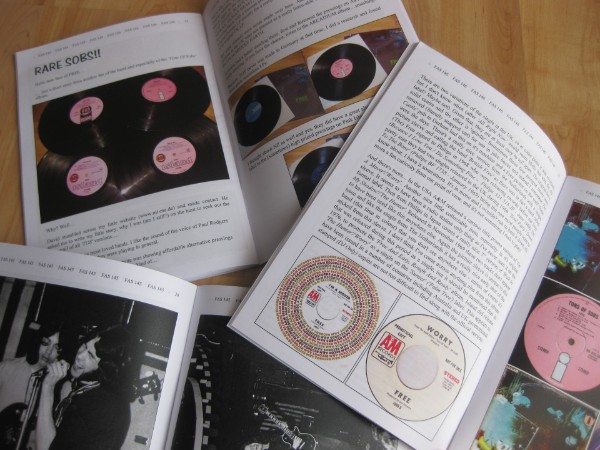 ...soft cover mags in really good printing quality...don't miss...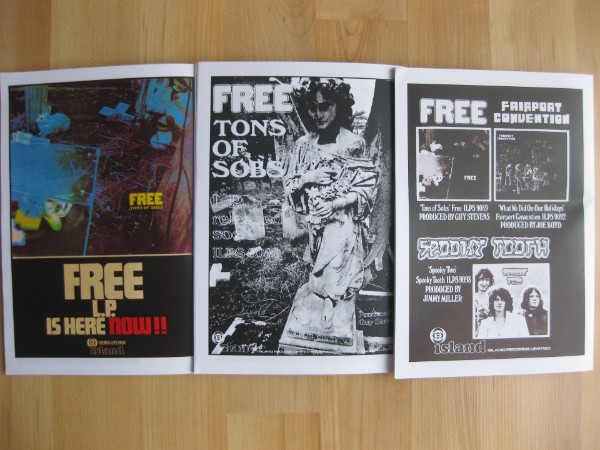 ...he did it again :-)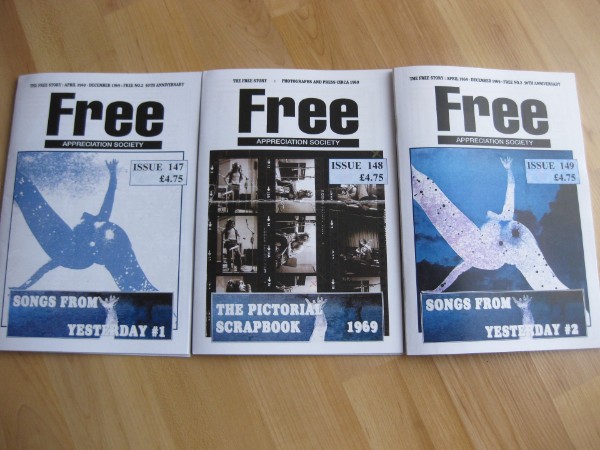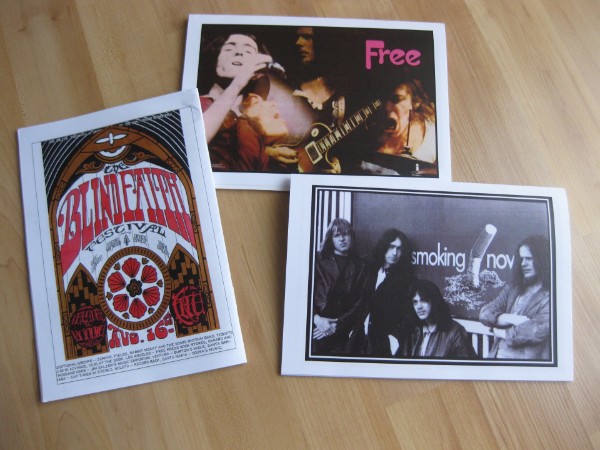 ...and another great and informative run...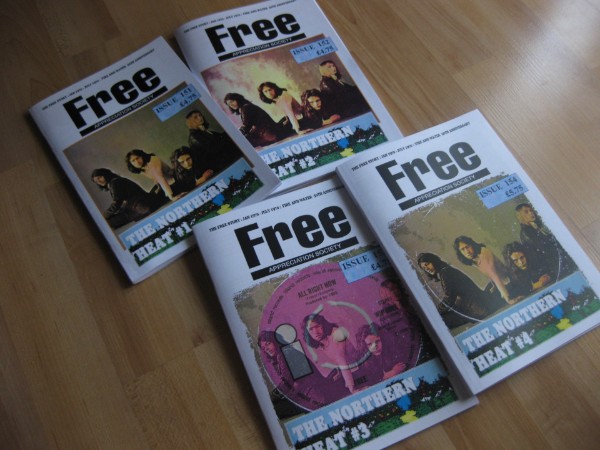 ...for the first time in four parts...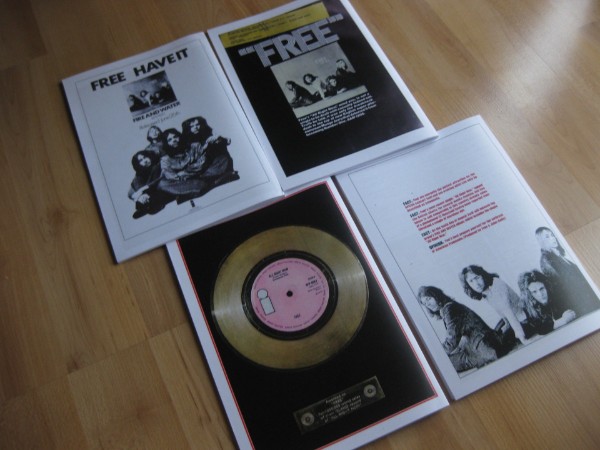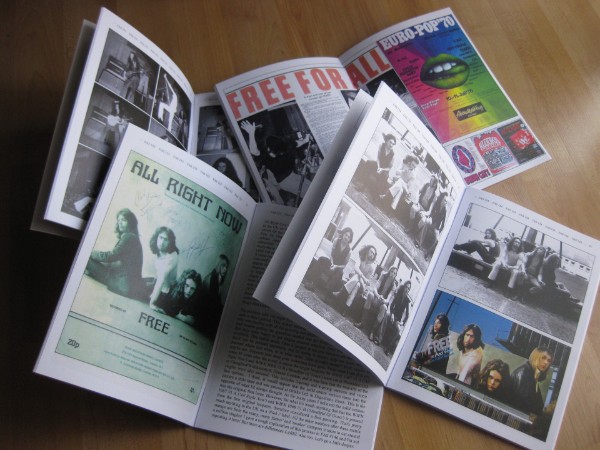 ...impressive work! .... And fourth four part "Album Edition" of his, what I call it, life's work: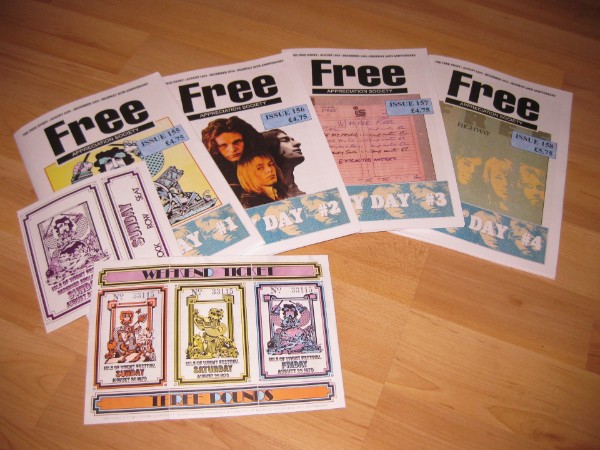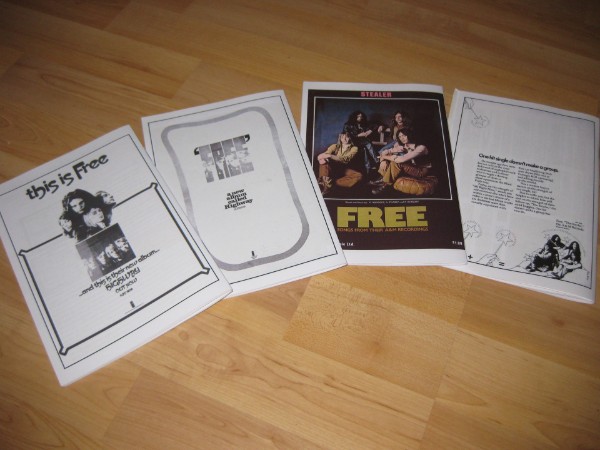 ...I bow to this work....and the next "Album Edition", this time in impressive five parts: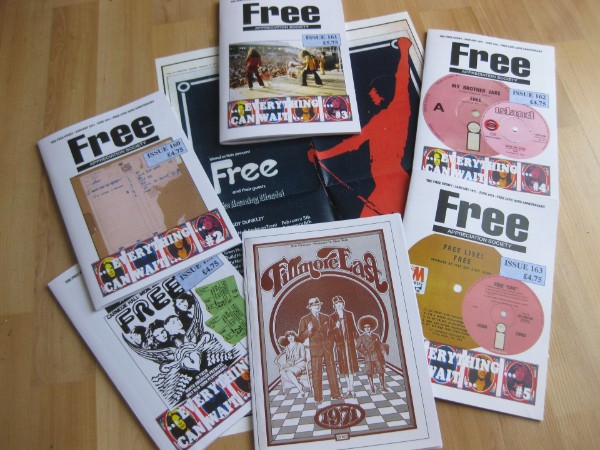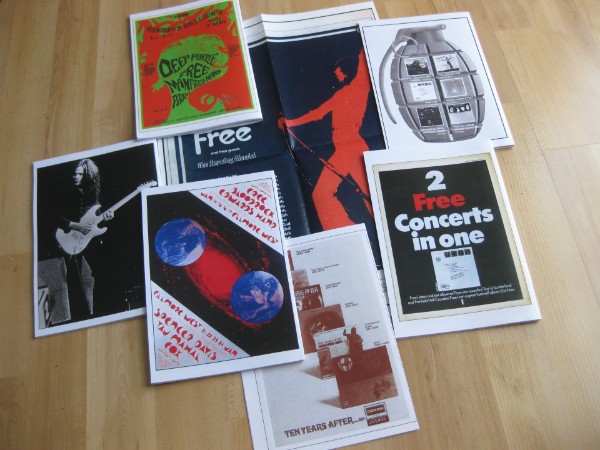 ...simply wow...and the following editions finally cover the year 1971...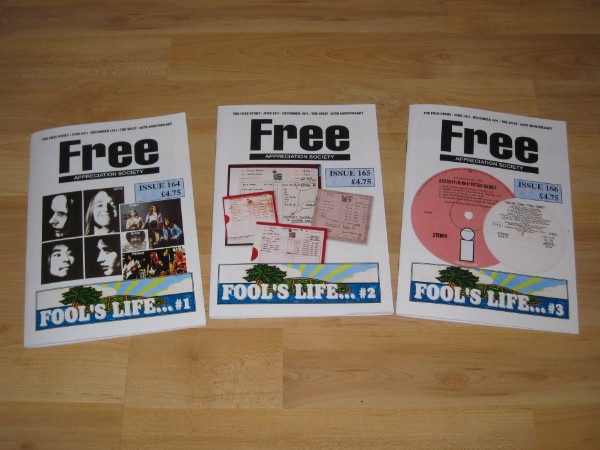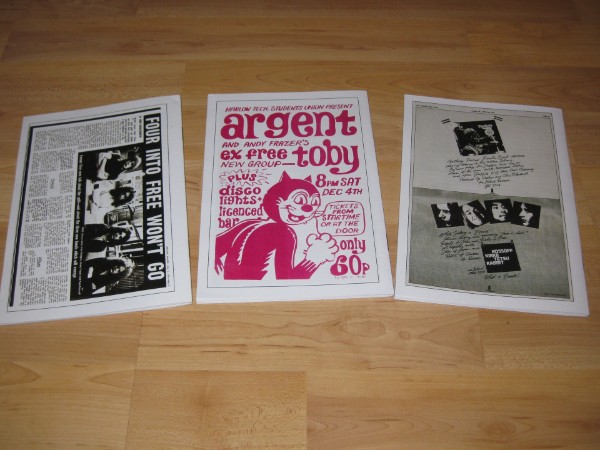 Two different (beautyful, but stereo) UK versions of the great TOS: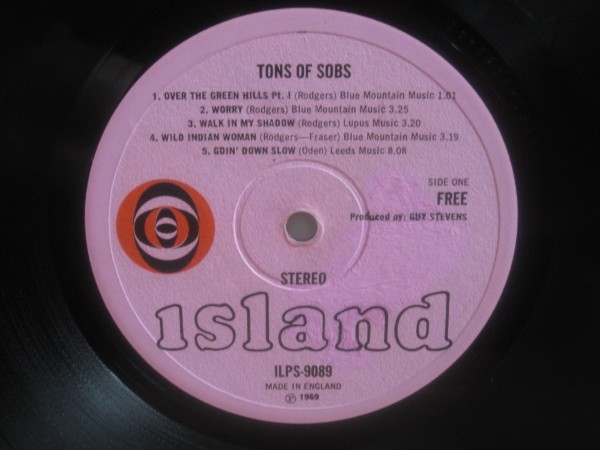 ...some sources say, that the one below is the second one, the one with the year 1969 is the very first pressing, as (almost, but not) all first pressing on Pink Island seem to have a date on it... well, who will decide..? ...e.g. this doesn't count for Traffic's "Mr. Fantasy"...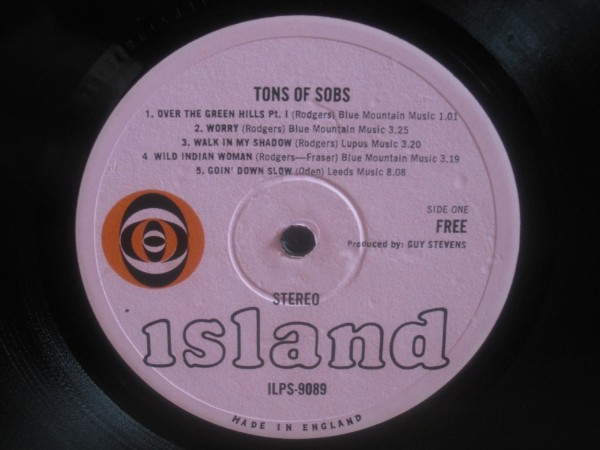 ...for more UK pressings, please see the section "...and beyond" (or here below) ...unfortunately no further European pressings known...for other first pressings you have to go a little further:
Here the one from the US. ...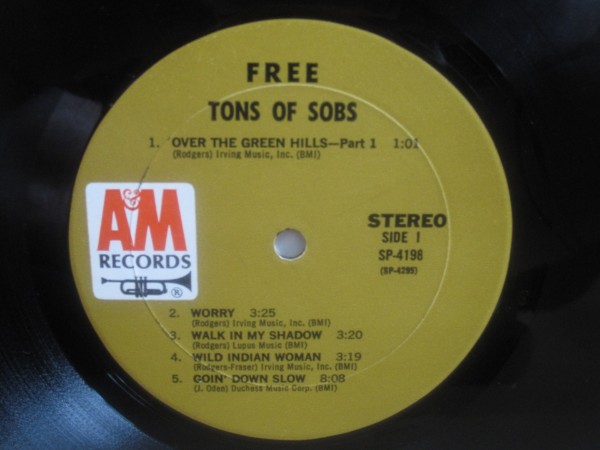 ...on Fontana STL 243 the one from South Africa...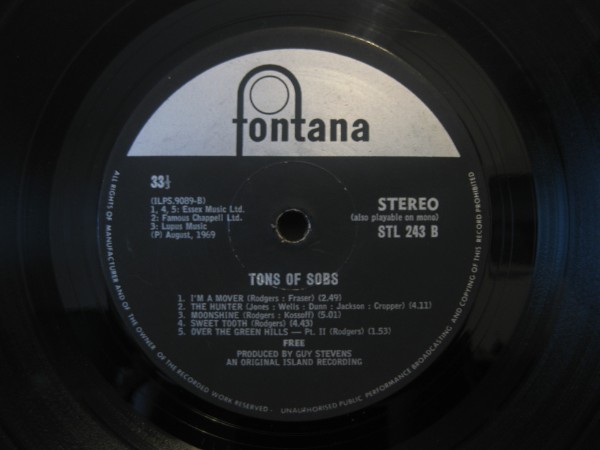 ...and finally on Fontana FOX-7009 the one from Japan...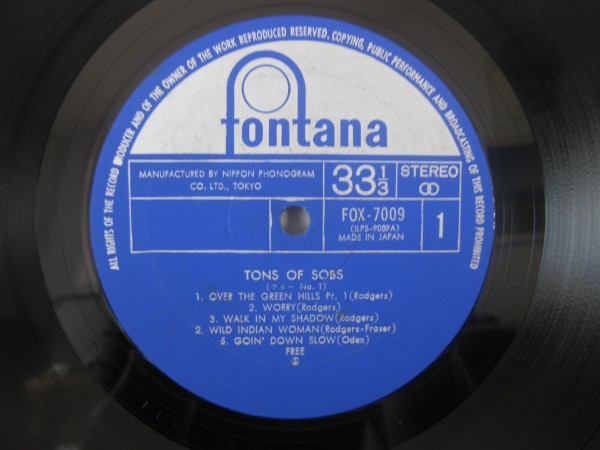 ...all great, all stereo...
Kontakt: webmaster@mi-me.de
Another puzzle I wasn't able to solve:
I have both first press mono LPs from the Beatles, the so called White Album, on display in the "...and beyond" section. It is a known fact, that the EMI credit on the labels were forgotten at first but this was immediatly corrected the very same day. So in the first run of 300.000 numbered (only mono-) LPs you can find both versions, mine without the credits has a number in the 20.000s, while the one with the credits has a number in the 200.000s.

But the one with the missing EMI credits is also missing the EMI credits (and the printing credits for Garrod and Lofthouse) on the collage poster as well. Is this correct? Do all LPs with the missing EMI credit on the label having no EMI credit on the poster as well?
Look, the mentioned section of the poster of both shown LPs: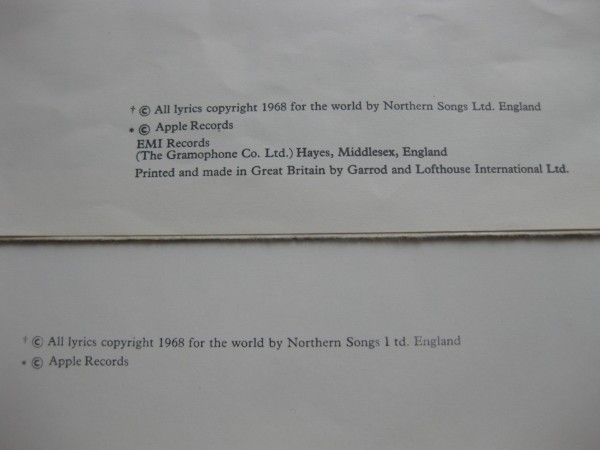 Anyone? Did not find anything on the web so far...
A question that I am asking myself (from time to time):
Don't you have this LP already? Is this version really necessary? Can you afford an original first press LP from the original country? (well, sometimes not)...But there might be a different cover, a different mix, a mispress... ?
Anyway, I have not just one version of some of my favourite LPs ... so these here are some of my absolute favourites and I do not want to miss a single one, if you know what I mean ....
FREE - TONS OF SOBS
(every line from left to right:)
US, SA, JAP, AUS (first), AUS (second), NZ, UK (first with 1969), UK (first without year), UK (second), UK (third)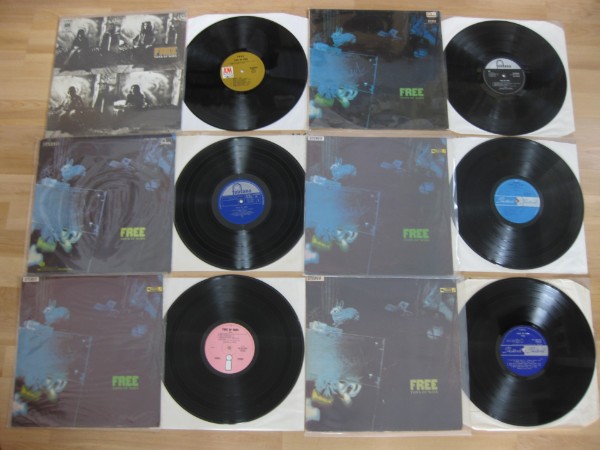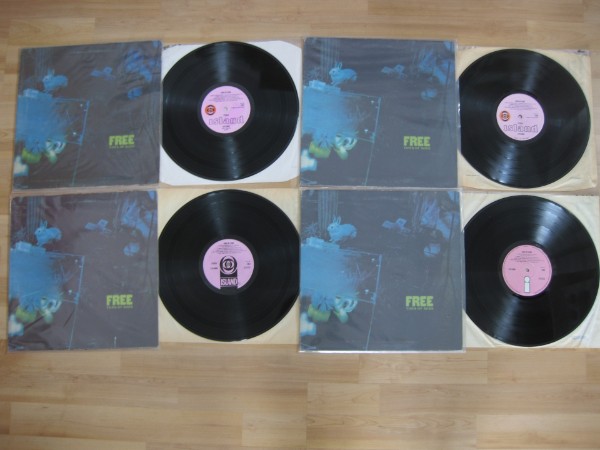 FREE - SAME
GER, US, FRA, UK, AUS, JAP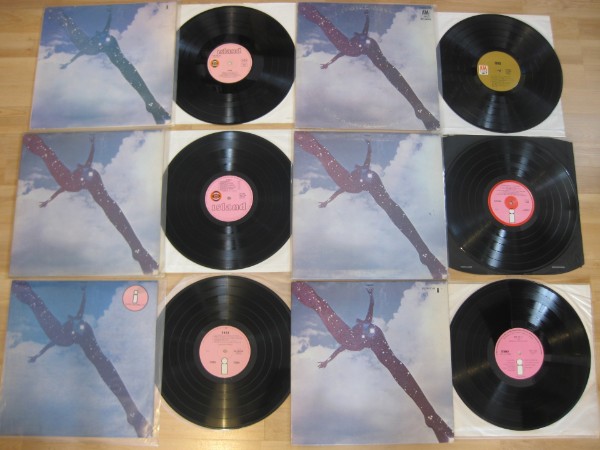 BLACK CAT BONES - BARBED WIRE SANDWICH
JAP, US, UK (mono), UK (stereo), FRA, GER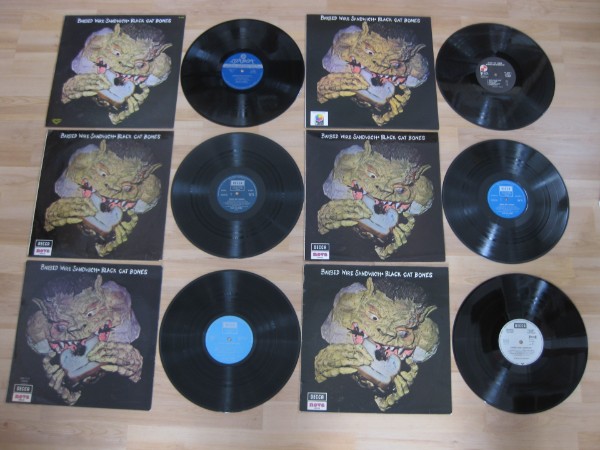 LEAF HOUND - SAME/GROWERS OF MUSHROOM
GER Re, GER Org., US Re, UK Org.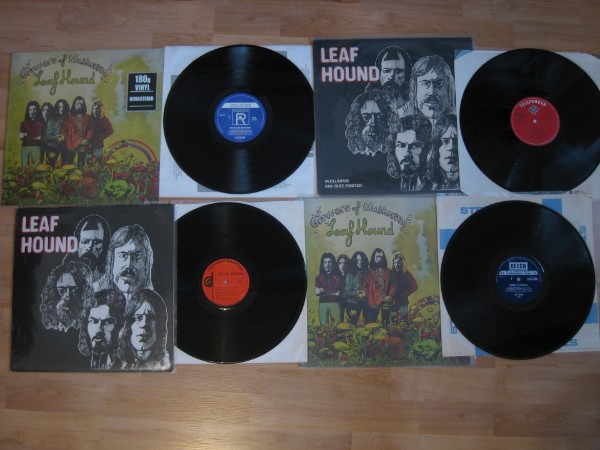 ARZACHEL - ARZACHEL
COL, IT, GER (second), GER (first), ESP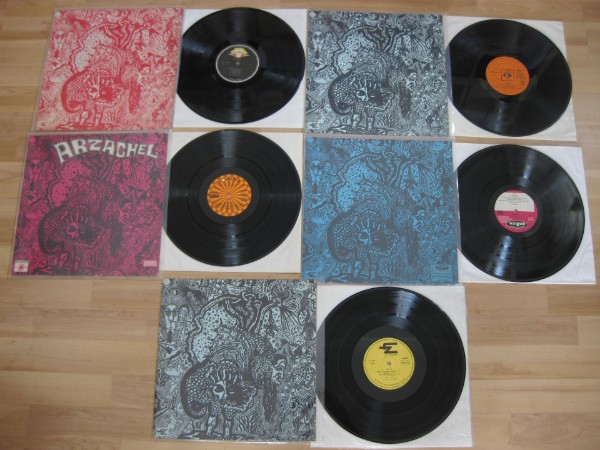 RAW MATERIAL - RAW MATERIAL
GER, ESP, IT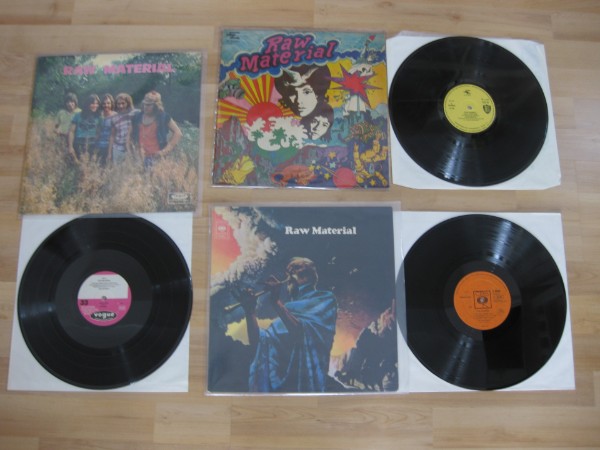 ...not just "one version of my favourites" counts for singles as well...
RAW MATERIAL - all UK ones and the ones from VEN, BEL, IT, ESP and GER...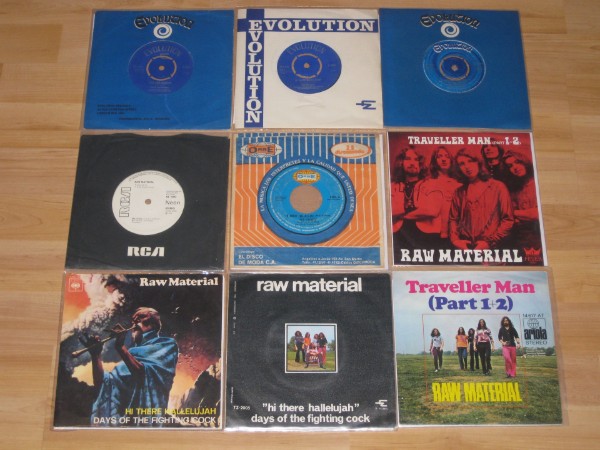 ART - SUPERNATURAL FAIRY TALES
UK, GER, AUS, CAN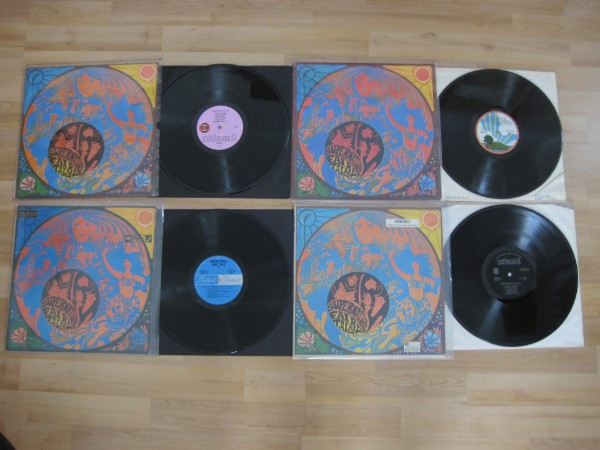 ASHKAN - IN FROM THE COLD
GER, UK (mono), UK (stereo)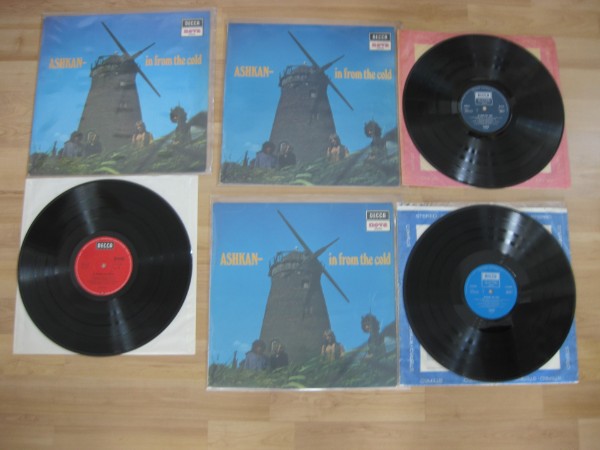 ELASTIC BAND - EXPANSIONS ON LIFE
GER, UK (mono), UK (stereo)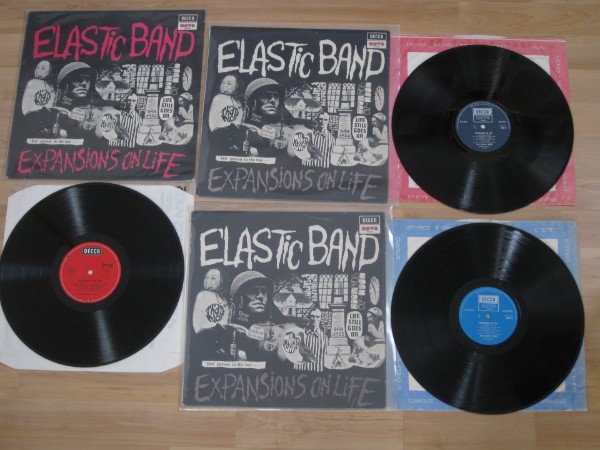 TEAR GAS - TEAR GAS
GER, FRA, UK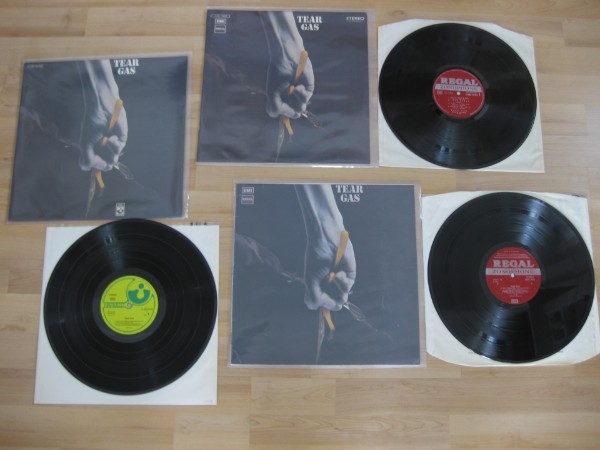 TRAPEZE - MEDUSA
UK, GER, IT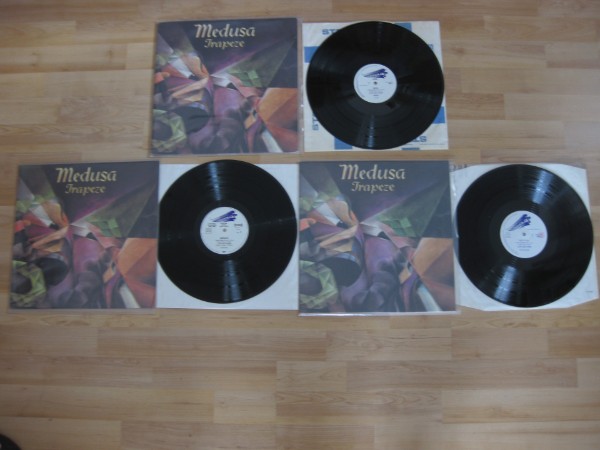 HUMAN BEAST - VOLUME ONE
UK, GER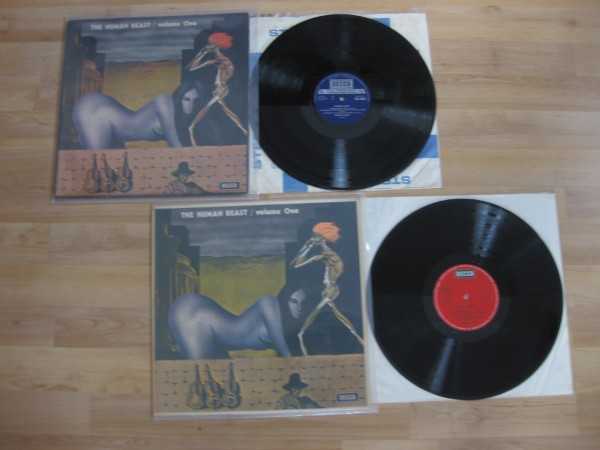 SAROFEEN - SAROFEEN AND SMOKE & LOVE IN A WOMAN'S HEART
UK, US, US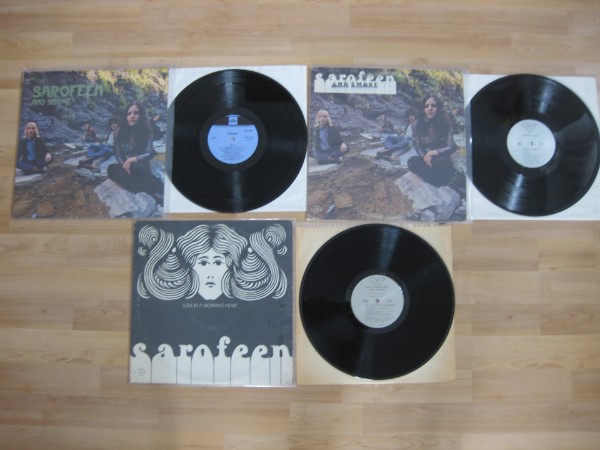 JULIAN'S TREATMENT - A TIME BEFORE THIS
US, GER, FRA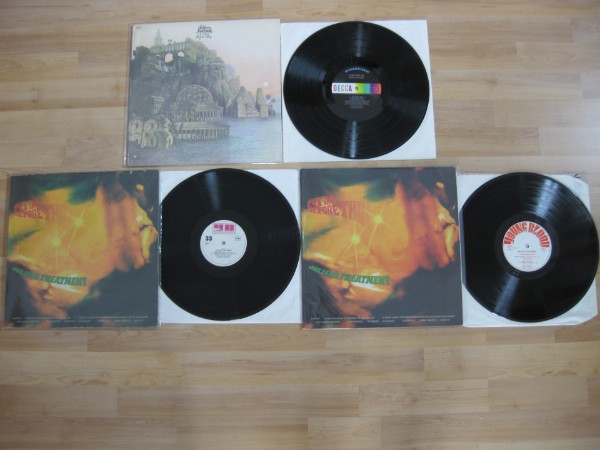 TOE FAT - TOE FAT & TOE FAT TWO
UK, FRA, IT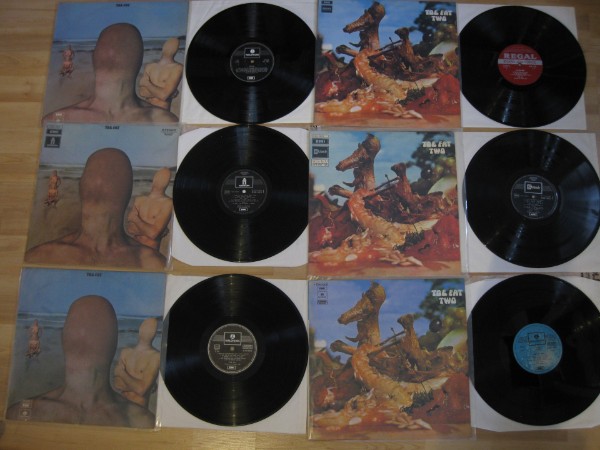 ...and the outstanding version of the first TOE FAT album from Argentina (front and back cover)...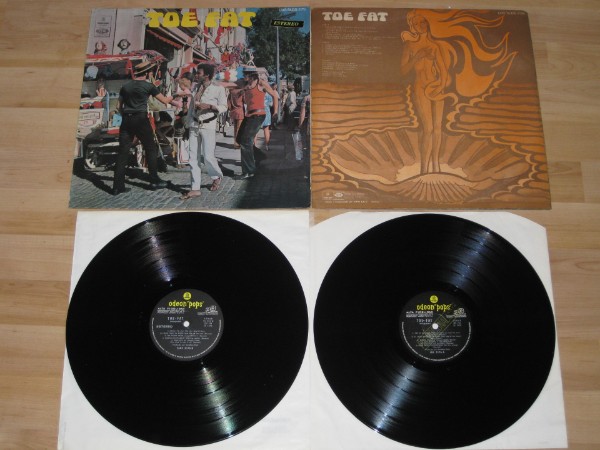 ...LP on the left is stereo SLDS 2176 (stereo Matrix YEX), on the right mono LDS 2176 (mono Matrix XEX), as promotional, or "promocional" copy. It is said that most mono versions of albums on "Odeon Pops" label were made by local Odeon label from original UK stereo master. Both channels were then mixed down to a single channel to create a "false mono" version. Nethertheless, both are somehow great in their way...TOE FAT TWO was not released there.
UFO - FIRST & II / FLYING
GER, UK (white), GER, UK (orange), UK (white), UK (orange) - see above...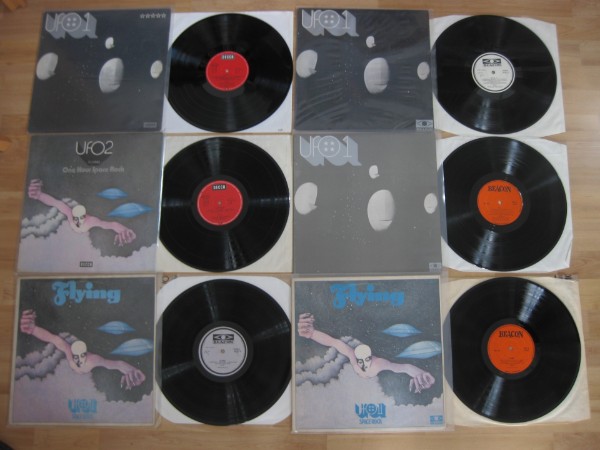 ....today it is more common for labels to pull money out of your pockets with different versions pressed by one company from one country.... e.g.

MEPHISTOFELES - WHORE (see under "What came then?")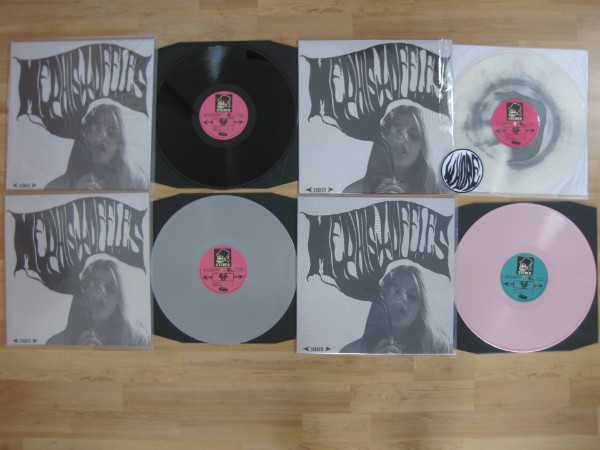 and...

DISENCHANTER - STRANGE CREATIONS (see under "What came then?" as well)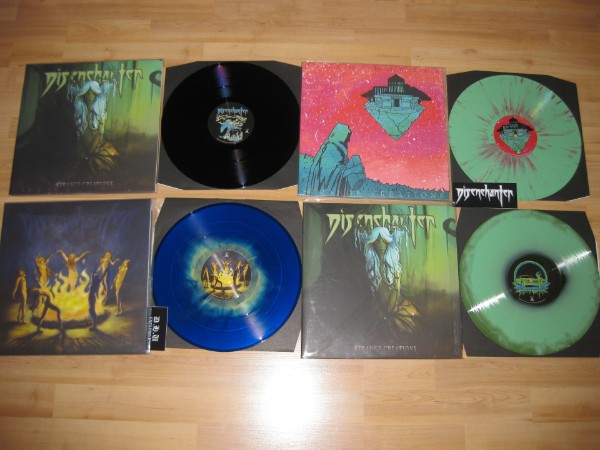 ...yes it's the same LP (2LP) in four different versions...each strictly limited...

...it can get very "special" if you are always looking for new possibilities that may offer a better recording than the original (because it was not pressed on particularly good vinyl at that time, for example, or the original tapes have unfortunately been lost in the meantime) - such as with The 13th Floor Elevators. I'll get straight to the point: There's hardly anything better than the original...
The Originals (stereo, from 1966 - 1969):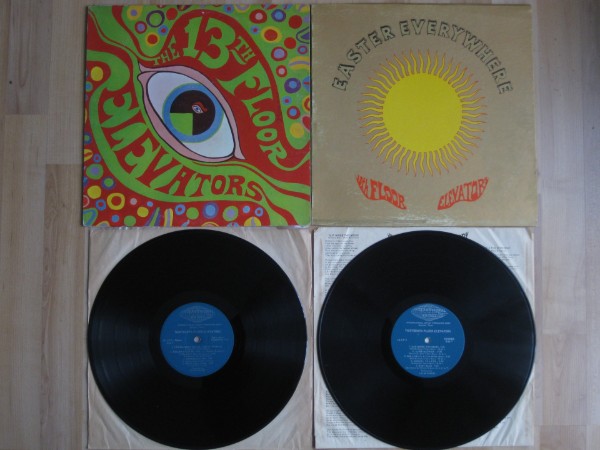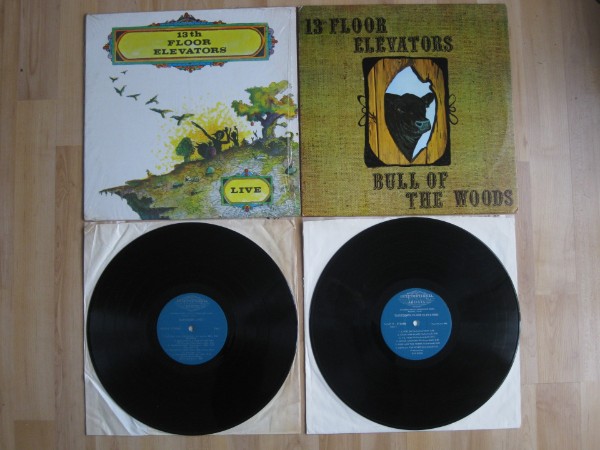 ...the first original in mono (1966) and below the box from International Artists from 1979...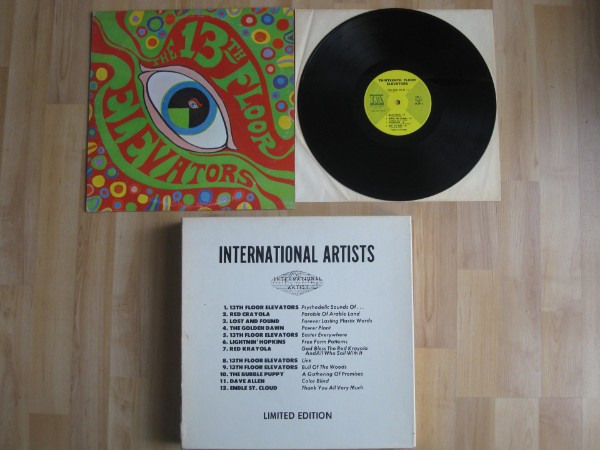 ...which contains the four albums as well...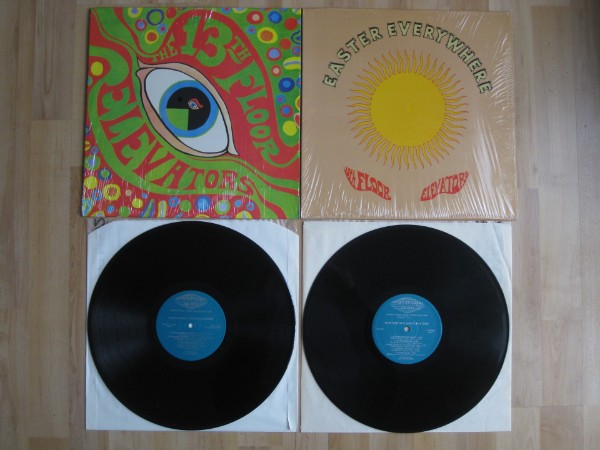 ...1978 was the year the first European pressings (UK) surfaced...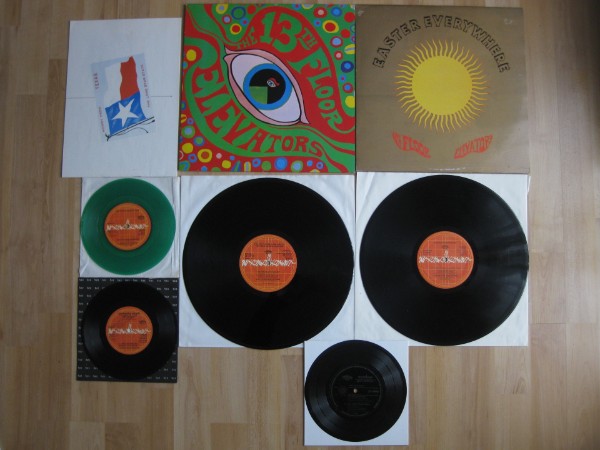 ...regarding the singles a box was first released in 2007 (UK) with all possible output...
...of course the counterfeit world has also taken on this group...the results were not too bad (from ?)....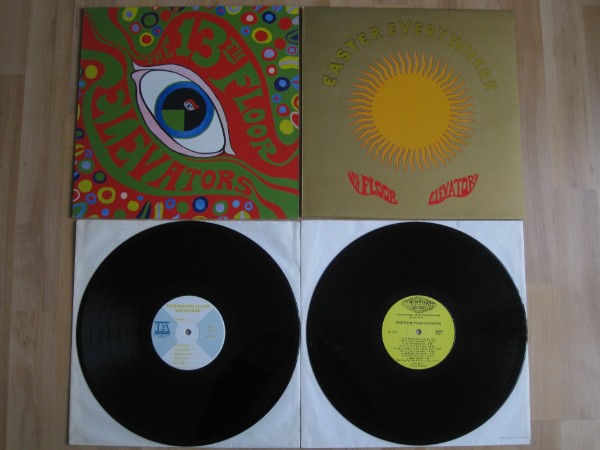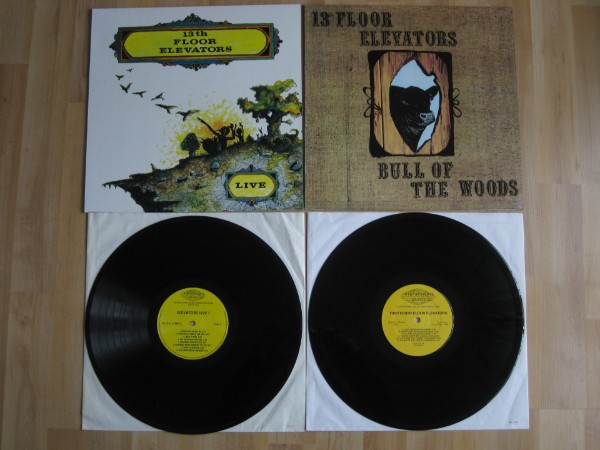 ...some licensed versions then came, sometimes at very short intervals. Like this one from 2016 for example...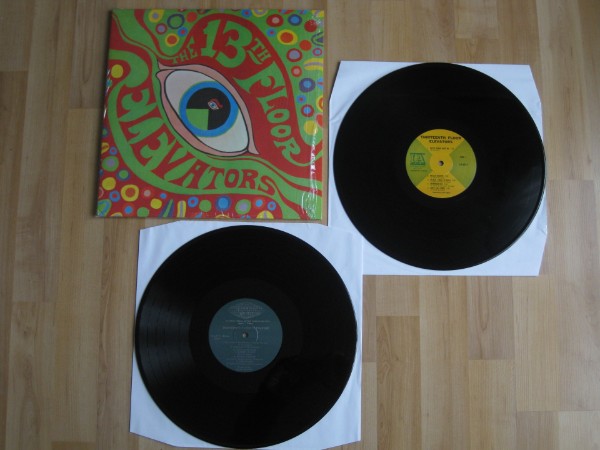 ...the hunger for further pressings remained apparently unsatisfied. Nice, but really no improvement in sound was this box from 2011, which again contained some very nice bonus material: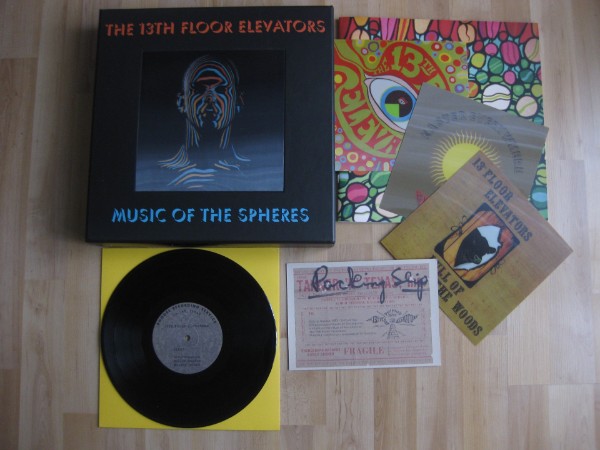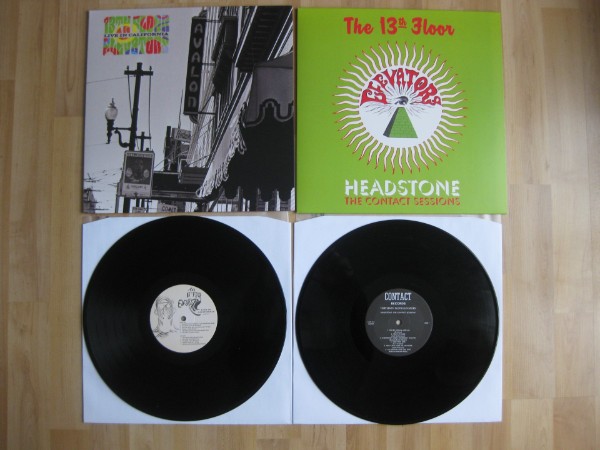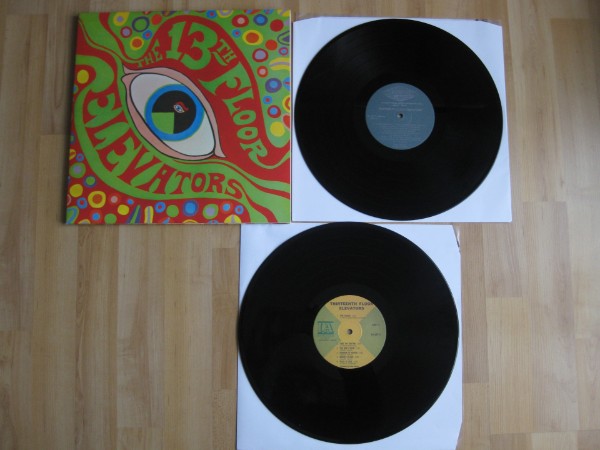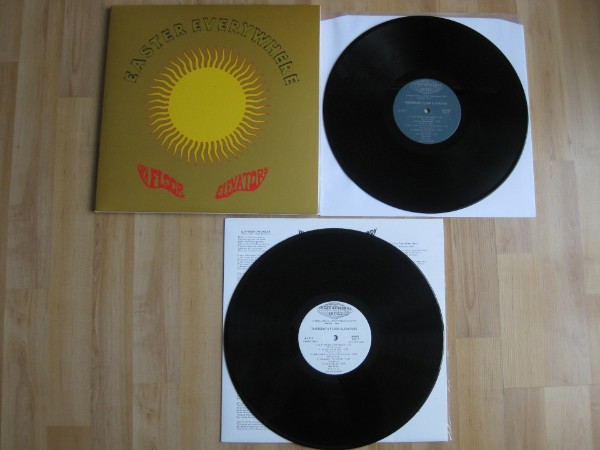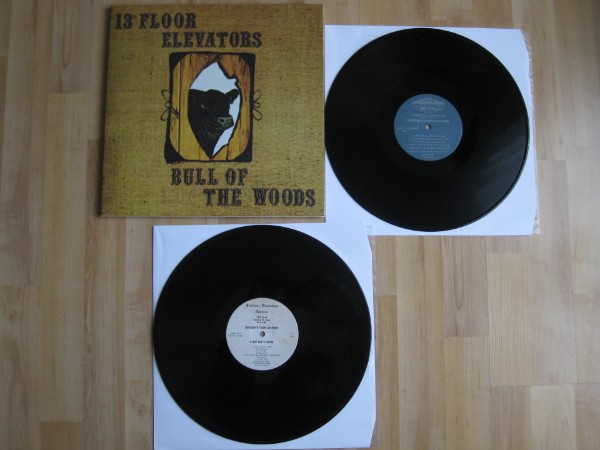 ...my personal end to this story (probably)...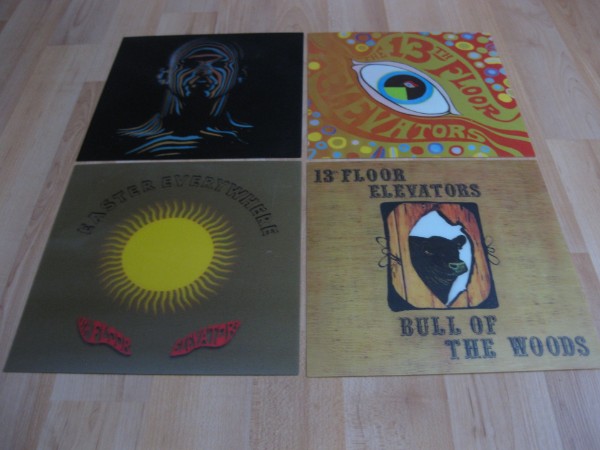 ...who knows ... :-)
A word of advice:
Customs.... you'll have to pay for (quite a lot for old stuff, if you ask me....19% price and shipping costs and more) and see what you'll get:
Doesn't it say quite clearly where to open?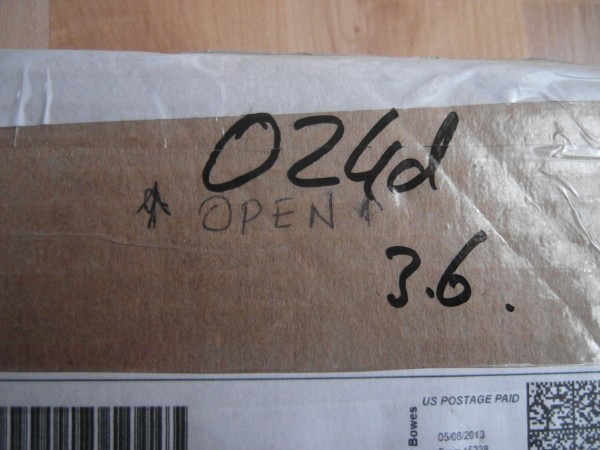 ...well, they have opened it like a tin can...cutting all around...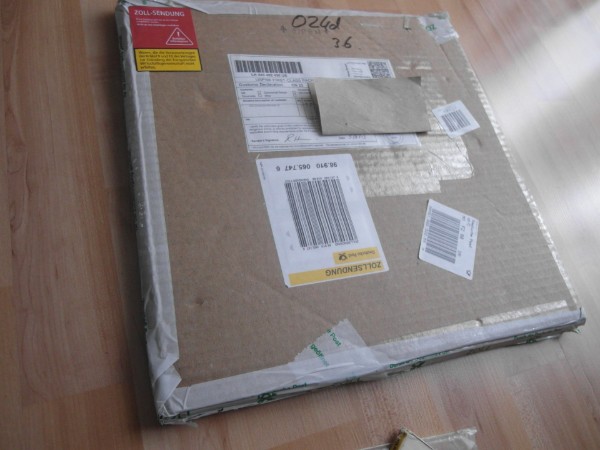 ...what could be in this box....? What do they expect to find? It was declared right regarding price and content...Oh, still only a boring LP...well, we've cut in that thing...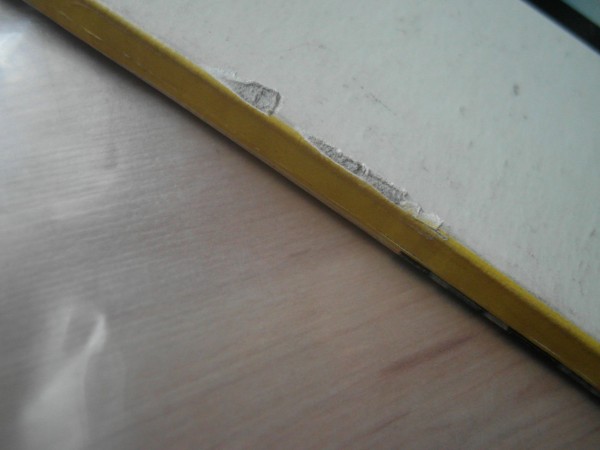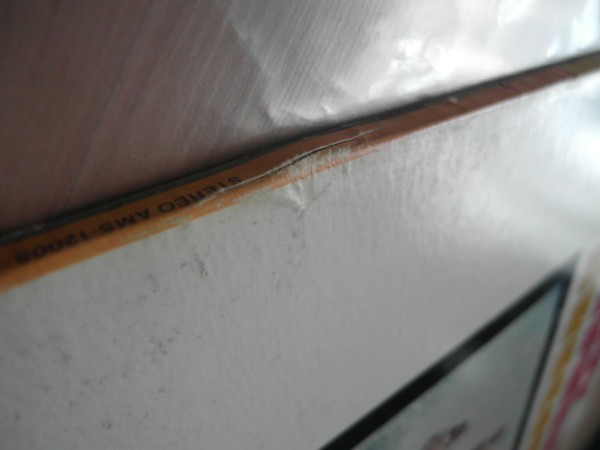 ...but hey, what the f..., we give you a nice tape for that....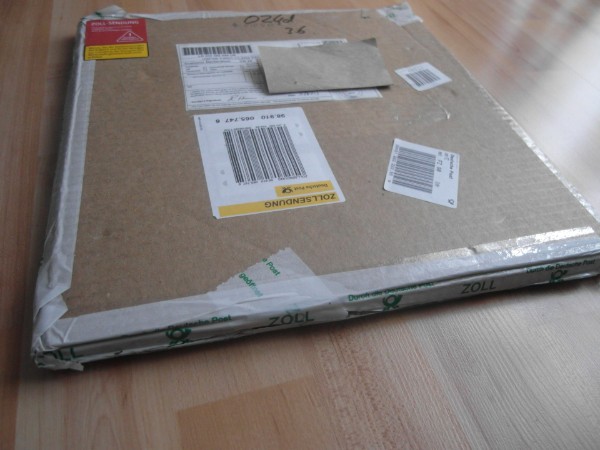 ...and a nice sticker to make one thing clear: There is someting "dangerous" in the box!
YOU WILL NEVER GET AN EXCUSE FOR WHAT THESE ..... DO TO YOUR PROPERTY. (In that case it was a litte wonder, that they have not killed the record as well.....)
Misgrading and Overgrading
Internet retail
has its pitfalls.
Unfortunately, there are always dealers who only superficially check their goods before they offer and sell them.
The buyer then has to stressfully clarify the matter.
And I am not talking about the often rediculous difference between VG(-/+/++, etc) and EX(-/+/++, etc).


The following EP is a prime example

(it took some time to find an acceptable copy):

Sold as an original ! from 1965 on French Decca (no pictures of the actual item were given, obviously):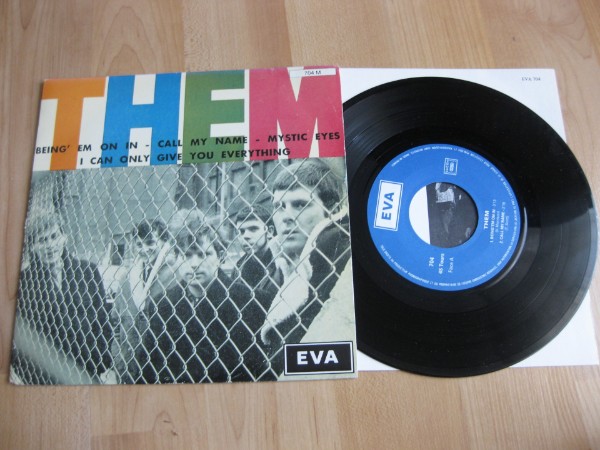 The following two EPs had no fragments in the envelope, so they were shipped in exactly the shown condition:
Sold
as VG+/VG+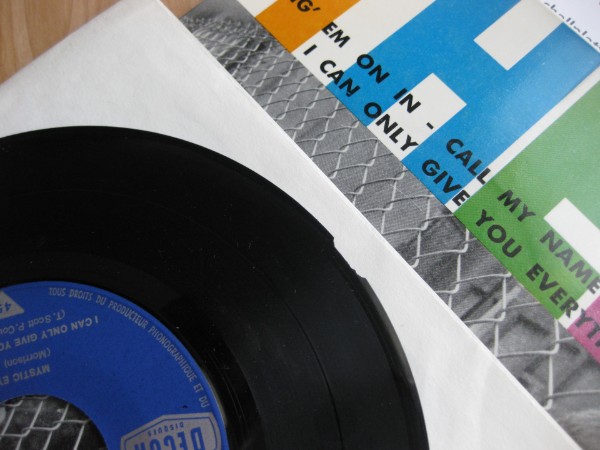 Sold
as M-/M-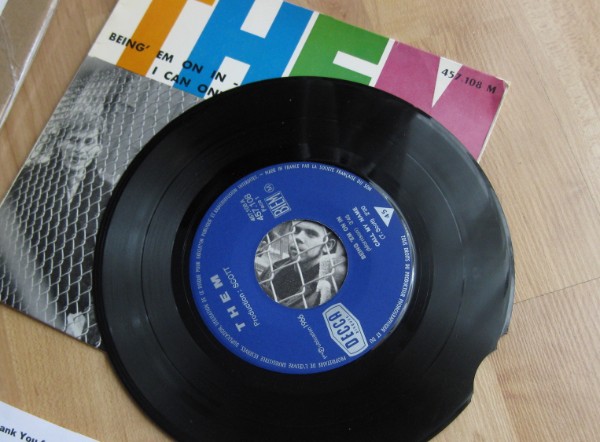 All the sellers behaved fairly afterwards, but the time, hassle, and return shipping (costs) are very annoying. Sad.
But that EP leads me to another point: Mispressed or misprinted vinyl and/or covers:
Yes, in mass production it sometimes happens that a product is produced incorrectly.
The collectors are happy about this misfortune. Sometimes...
The above shown EP is a mispressed EP in
more than one way
:
The
first title is spelled wrong
(as you can see quite clearly in the last pictures).
The titles shown on all the covers (and on the EP as well) are:
"BEING' (instead of BRING) EM ON IN/CALL MY NAME" & "MYSTIC EYES/I CAN ONLY GIVE YOU"
on DECCA 457.108 BIEM in FRANCE...
..first printed cover from 3-1966 (above). Later printed covers are from 5-1966 (but still wrong):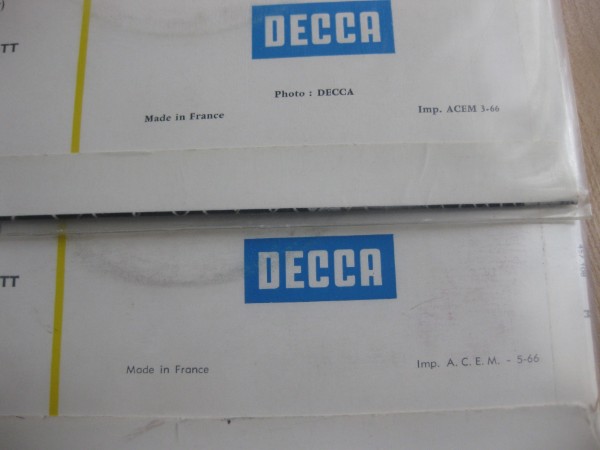 The other way of mispress are the titles on the EP. There is a very small quantity of EPs which are including,
but NOT showing these titles:
"BRING ' EM ON IN/SOMETHING YOU GOT" & "MYSTIC EYES/I PUT A SPELL ON YOU"
So track A2 and B2 are completely other tracks not belonging here.

As far as i have discovered, the best way of finding out the difference is by listening to the EP.
But I am pretty sure, that all EP's carrying the wrong titles are having the cover from 3-1966 as a first clue.
Fact is the
matrix
printed
in the runout space
:
457 108 A C1
and
457 108 B C1
for the mispressed one ...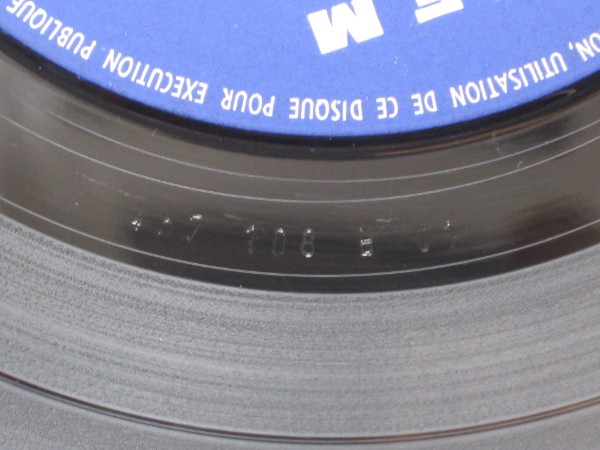 ...and either
457 108 A B2
and
457 108 B B2,
or
457 108 A B3
and
457 108 B B3
for the regular one: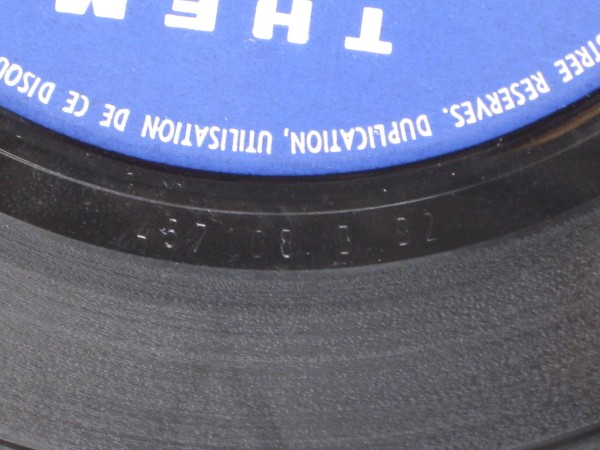 If there are more variations like B4's or mixed variations like B2 on one side with B3 on the other side for example, I do not know.


....................BORG AT WORK...........Who can spot Locutus...........?